If you guys have been following this blog, you would have known that I went on a solo backpacking trip to Penang at the back end of last year and how much wonderful memories that I've had from that trip. Not only I got to explore most of their attractions but also met a couple of new friends along the way. Besides, I've also achieved my goal and successfully explored Penang's attractions by their public transport - Penang's RAPID Buses. In this post, I'm going to share with you how you can do the same (and how easy it is) through these 7 simple tips:
---
Tip 1: Know Your Landmarks
Before we get started, it is important to recognize a few crucial landmarks of Penang. Let's divide Penang into 5 key areas:
East - You have the Weld Quay Ferry Jetty and KOMTAR building at the heart of Georgetown.
North - The up and downhill ride along the coastline towards Batu Ferringhi Beach.
South - There is the Bayan Lepas International & Domestic Airport.
West - You'll find yourself at the back of the island, better known as Balik Pulau.
Central - Where Penang Hill and the famous Kek Lok Si Temple resides.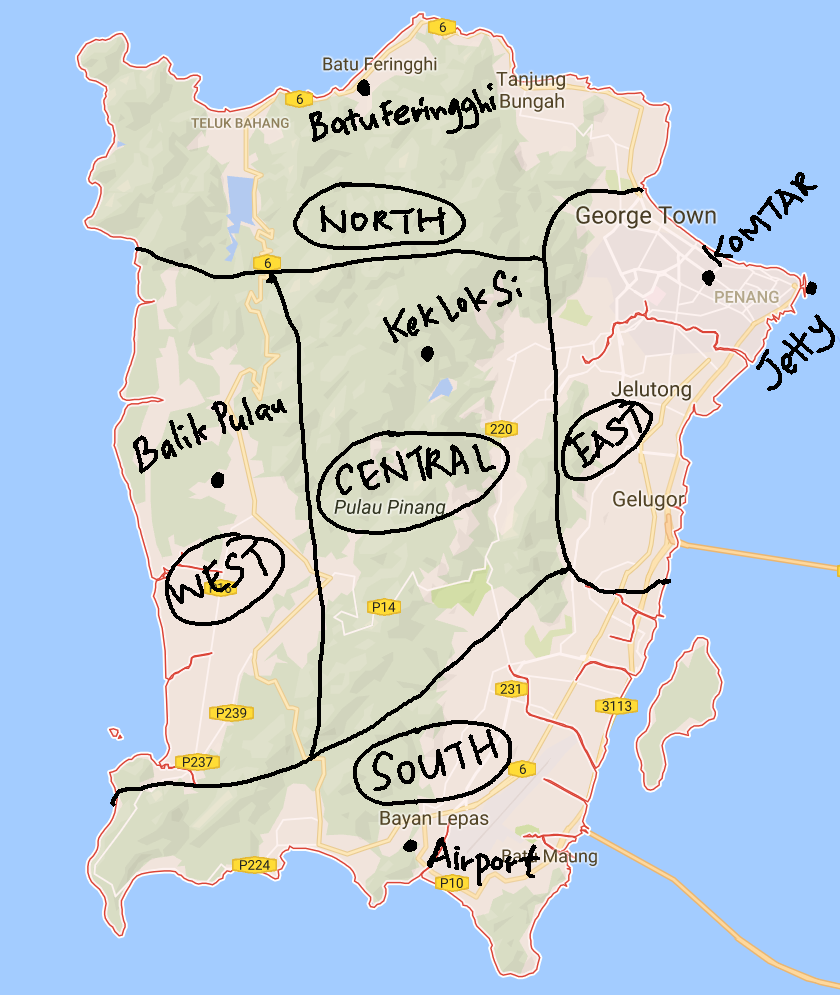 Tip 2: Understand the Bus Routes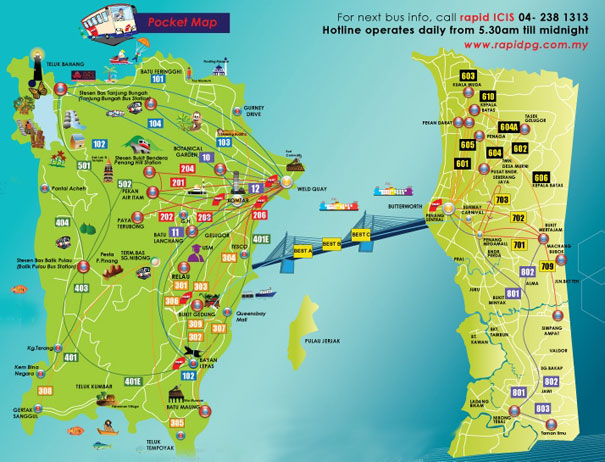 The are altogether 2 Bus Terminals located at Weld Quay Jetty and Balik Pulau respectively. Since most of us will probably be staying over at Georgetown, I will use Georgetown's KOMTAR as our starting point. Most buses that depart from the Jetty stop by KOMTAR bus station which functions like a central hub of the bus routes. The bus station is located at the ground floor of KOMTAR complex.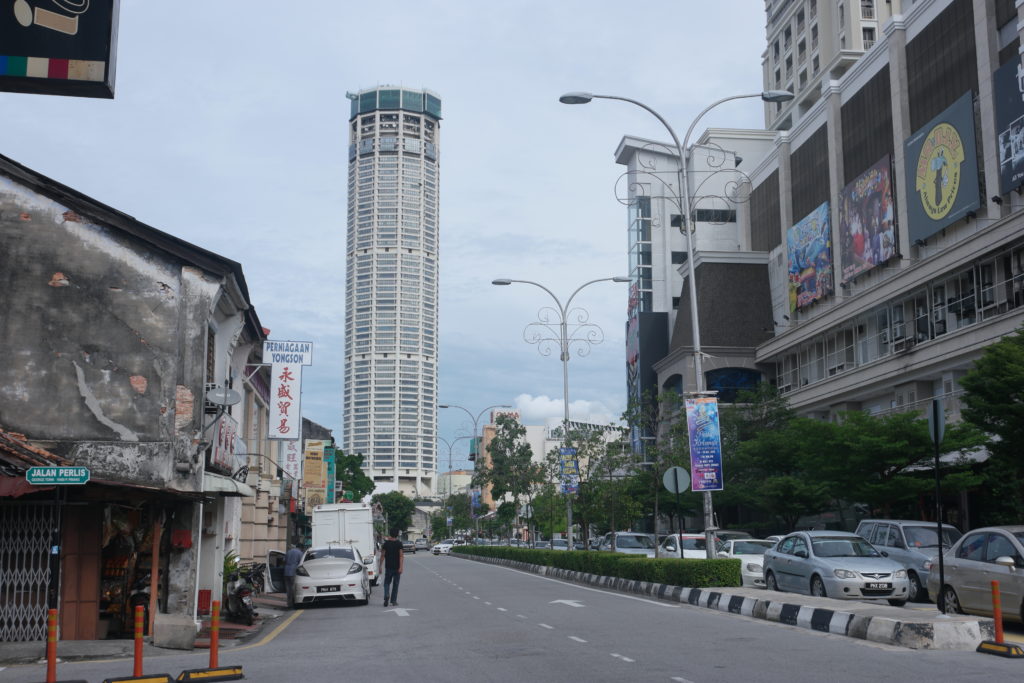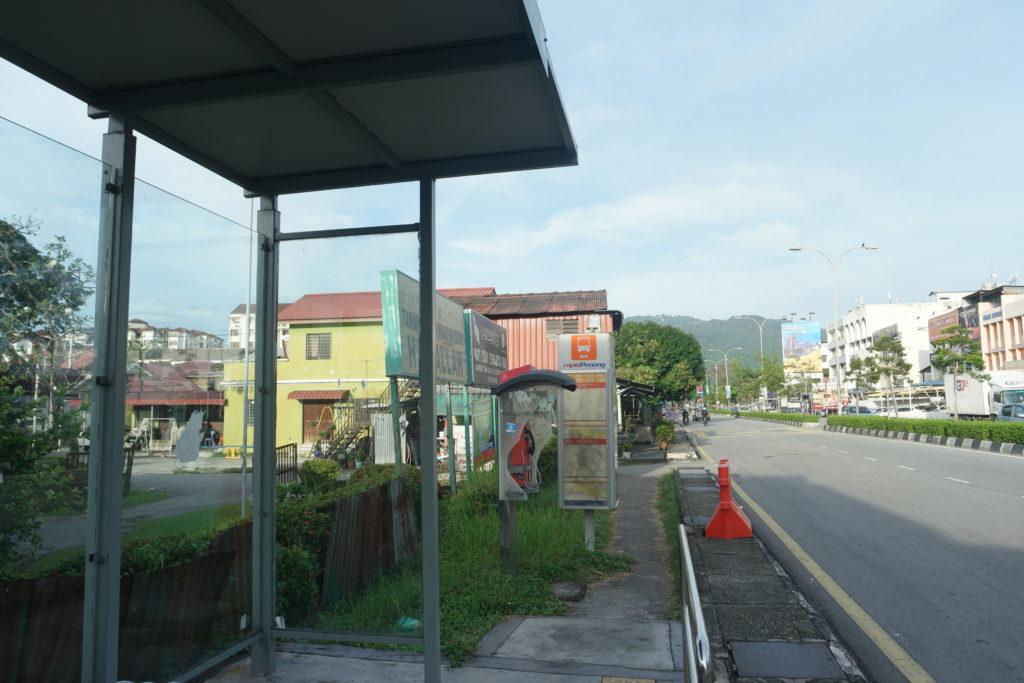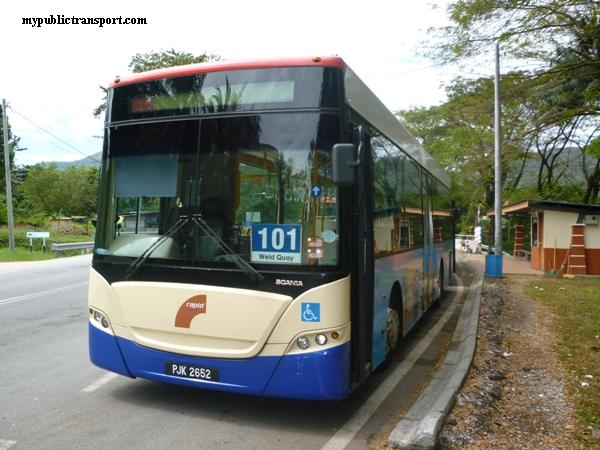 Each RAPID bus displays its destination at the front of the bus. So if you are setting off away from Georgetown, you should be looking at the direction away from the Jetty and vice versa. Here are some of the buses that you can take to visit the popular tourist attractions in Penang:
East Region (Georgetown) - CAT Bus (free hop on and off bus to explore the city), Bus 101, 201 or 203 from Jetty.
But I'd highly recommend that you explore Georgetown by foot to avoid the traffic jam. I certainly had much more fun hunting down the cultural heritages, street arts and food by walking down their lanes and alleys. 
North Region (Gurney Drive, Tanjung Bungah, Batu Ferringhi) - Bus 101
Central Region (Kek Lok Si, Air Itam Laksa, Penang Hill) - Bus 201, 203, 502 & 204 (the only bus that terminates at Penang Hill)
West Region (Balik Pulau) - Bus 401 & 502 
South Region (Airport, Snake Temple) - Bus 102 
Tip 3: Use the Official RAPID Penang Website
I'd also like to recommend that you use the RAPID Penang official website as part of your homework before beginning your journey. Under the Journey Planner > Places of Interest ETA, just enter your destination and it will give you the buses that you should take.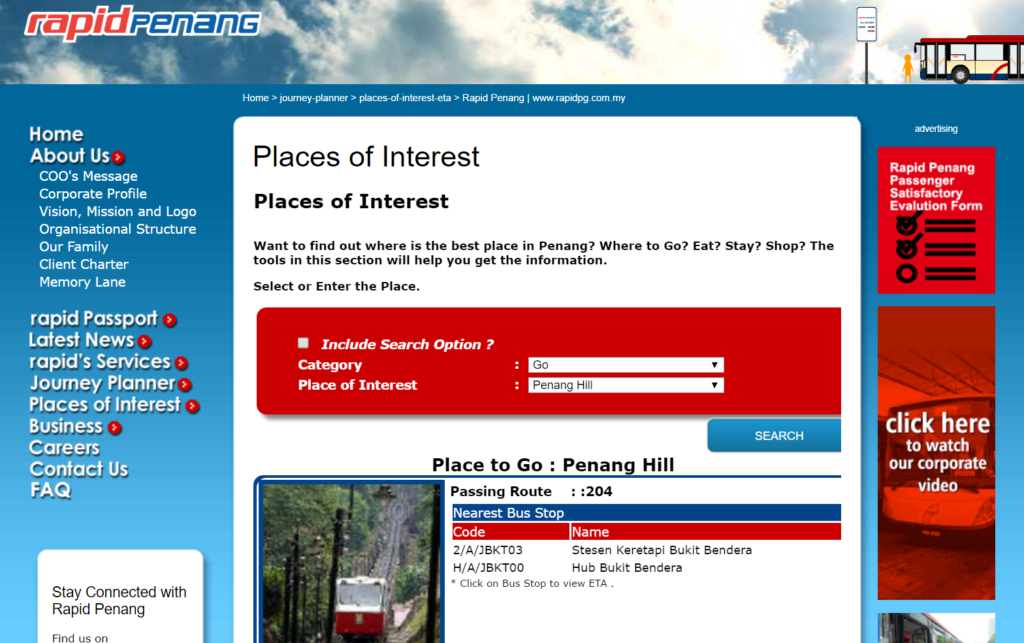 You can also search the route of each bus by heading to Journey Planner > Route Maps. Just click on the bus number and the route of that bus will pop up.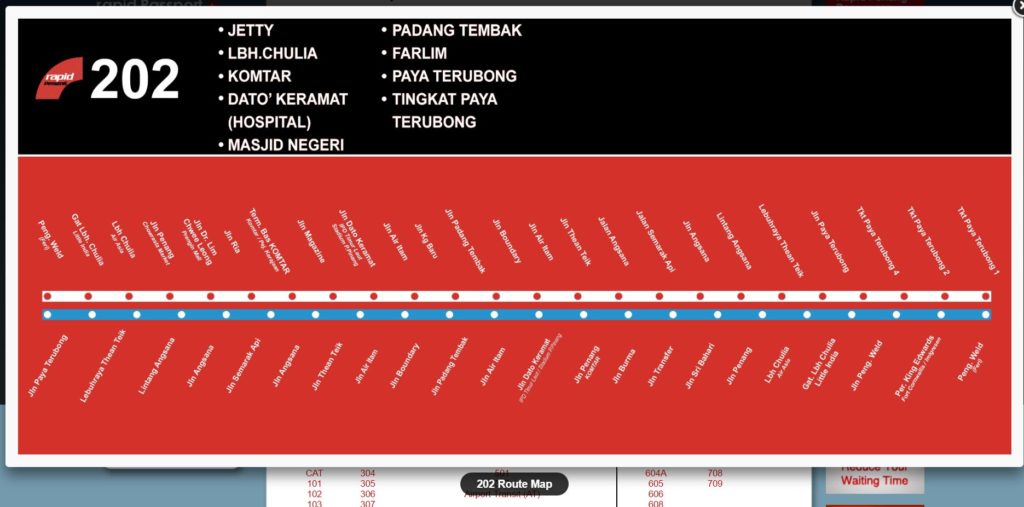 Tip 4: Prepare the Fares
Once you are on board, you are expected to pay for the bus fare in exchange for a valid bus ticket which will be issued by the driver. Just tell the driver where you'd like to go and he will inform you the fare amount. You can pay in both cash and coins but do not expect any change! Means that you have to pay the exact amount (or more than that if you ran out of coins). From my experience, the fare typically amounts up to RM1.40, RM2.00, RM2.70 or RM3.40 depending on the distance traveled.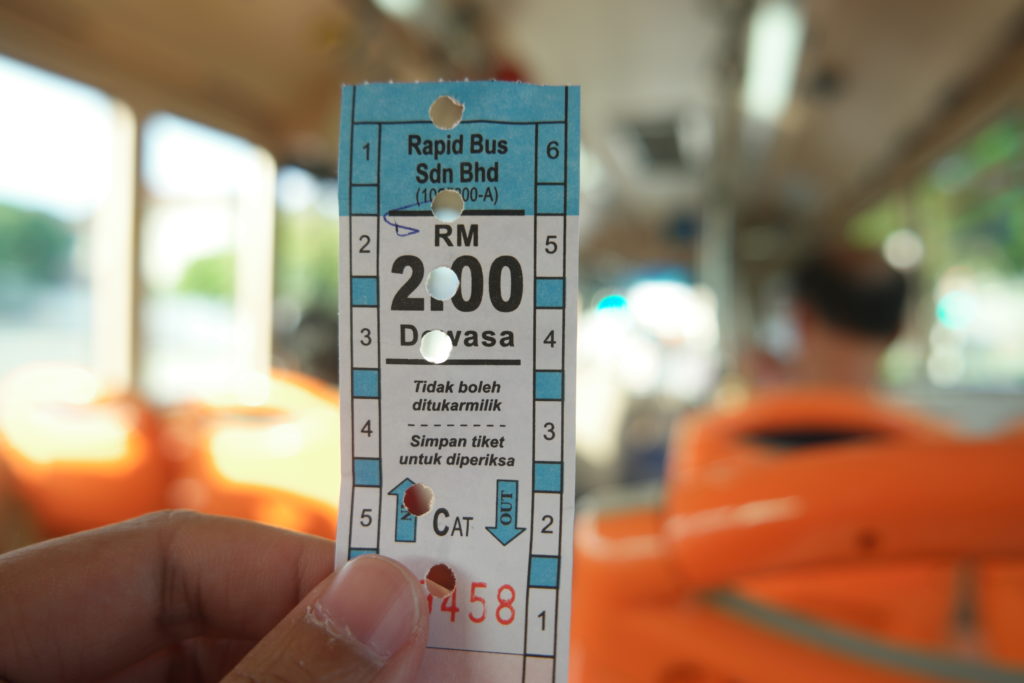 Tip 5: Ask the Driver
Now this is one of the most important tip of all. If you are not sure, please do not be shy and ask the driver about the bus route and whether it goes to your destination. As there is no stop announcement on board, there is a chance you might miss your stop. You can even ask the driver to inform you when you should alight. I did that a couple of times just to be sure that I got off at the right stop.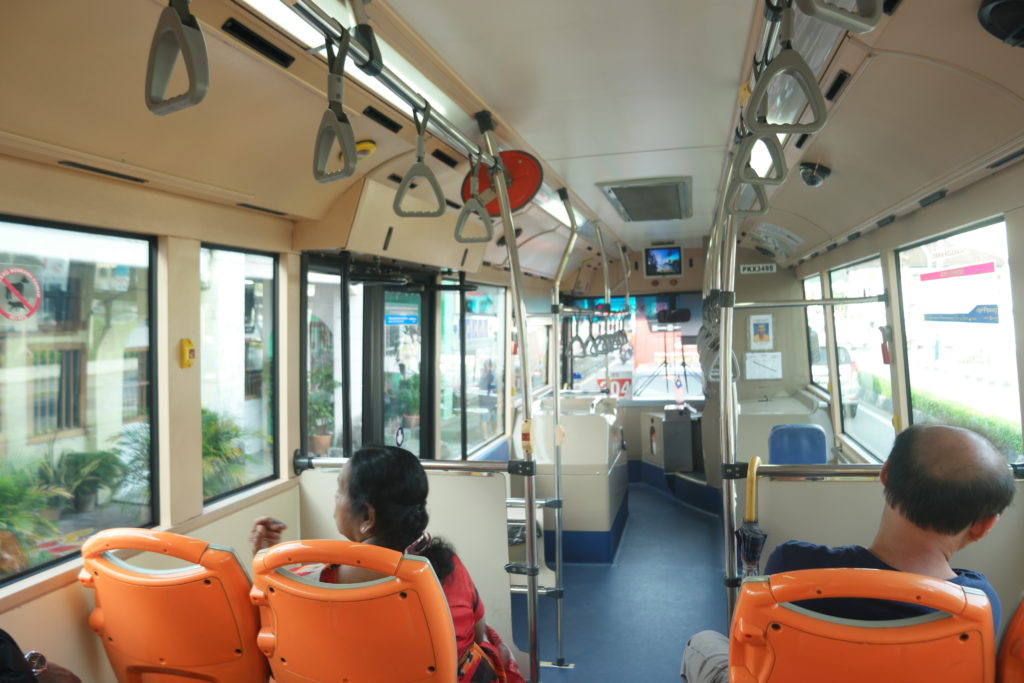 Tip 6: Choose a Strategic Accommodation 
There are a wide range of accommodation to choose from in Penang such as hotels, budget guesthouse, and Airbnb. I'd recommend that you pick an accommodation which is within walking distance to KOMTAR as most of the buses stop there. I stayed in Peter & Mei's Airbnb at 24 Merican Road which was very convenient. Not only it is within 15 minutes walking distance to KOMTAR but also has bus stops just 3 minutes away from their house.  
Tip 7: Use UBER as Your Alternative
Just in case you are lost and can't seem to find a bus stop, use UBER! There is already an established UBER community in Penang and the fare is really cheap. If you have 3 or 4 people to share the fare, it might be even cheaper than taking the buses! 
---
Alright so there you have it. It is definitely possible and very convenient to explore Penang's attractions by their public transport. No need for the expensive car renting or driving yourself all the way to Penang now if you can utilize their public buses and UBER services. If you have any question, feel free to leave a comment below!