After checking out from a fun and fulfilling 3D2N vacation at Pulau Besar, I embarked right away on my second island adventure to Pulau Rawa - known to be one of THE BEST island in the world! What an awesome way to begin the week!
Pulau Rawa, or Rawa Island is a small island own by the family of Johor State Sultan. There are only two resorts on the island - Rawa Safari (or Rawa Island Resort) and Alang's Rawa, both of which are founded by the family of Johor Sultan. I booked my 2D1N stay with Alang's Rawa which has a more casual, island feel to it. Visit Alang's Rawa Resort website here to find out more about their packages and book directly with them.
The only way to Pulau Rawa is by boat from Mersing Jetty. If you have read my post on Pulau Besar, you would have found out how easy it was to get to Mersing jetty from Singapore. Due to renovation works going on at Alang's Rawa office, I met their representative, Alween straight at the jetty. We have previously communicated through text exchanges to meet her at the jetty. So make sure you provide a contactable phone number while booking the package. 
The boat left on time at 12:30pm. Pulau Rawa is about 30 minutes boat ride from Mersing. We passed by Pulau Besar, Pulau Tengah and Pulau Hujung on our way to Rawa. 
Hey! I stayed there last night!

Passed by (from the right) Pulau Besar, Pulau Tengah and Pulau Hujung

We are reaching!
Day 1
I was heading to Pulau Rawa with high expectations after reading so much about this little gem online. As we approached the island, all I could do was hats off - I will never forget the view that greeted me especially the huge RAWA engraving on the island.
Unlike in Pulau Besar where we got off the boat at the island jetty, over here at Pulau Rawa the boat just anchored by the shore and we basically just stepped out on to the creamy white beach and walk towards Alang's Rawa Resort. 
We were greeted by Sheena, a very friendly girl as she guided us to the waiting area. As they were short of staffs that day, some of our rooms weren't ready in time. But that wasn't a problem for me as Sheena entertained us by sharing some background about the island and also Alang's Rawa Resort.
As I explored around the beach, I quickly noticed the stark contrast in styles of Alang's Rawa and Rawa Safari, the sole two resorts on the island. Alang's Rawa has this casual, island feel to it as it is very simple and minimalistic. On the other hand, Rawa Safari appeared to be more sophisticated, with its villas and mansion-scaled resort rooms. 
The room that I stayed in was the Beachfront Room. It was spacious, with a double bed and a single bed. There was no aircond, no wifi and the tap water was kinda salty.
now that's a true island life!
Oh and did I forgot to mention their mascot?
With such clear waters, the first thing that I wanted to do was to dive down and snorkel. The corals were very rich, colorful and most importantly, highly visible thanks to the unpolluted sea water.
The main attraction that I was really looking forward to was the Rawa Slide. If you search Pulau Rawa on Google, you will definitely see this red coloured slide that is built on the sea. Although it is a property of Rawa Safari Resort, no one would stop you from trying out the slide. If you ask me what is THE MUST DO in Pulau Rawa, this is it! 
THE LEGENDARY RAWA SLIDE!
After seeing all these before me, I can't wait to get on it myself!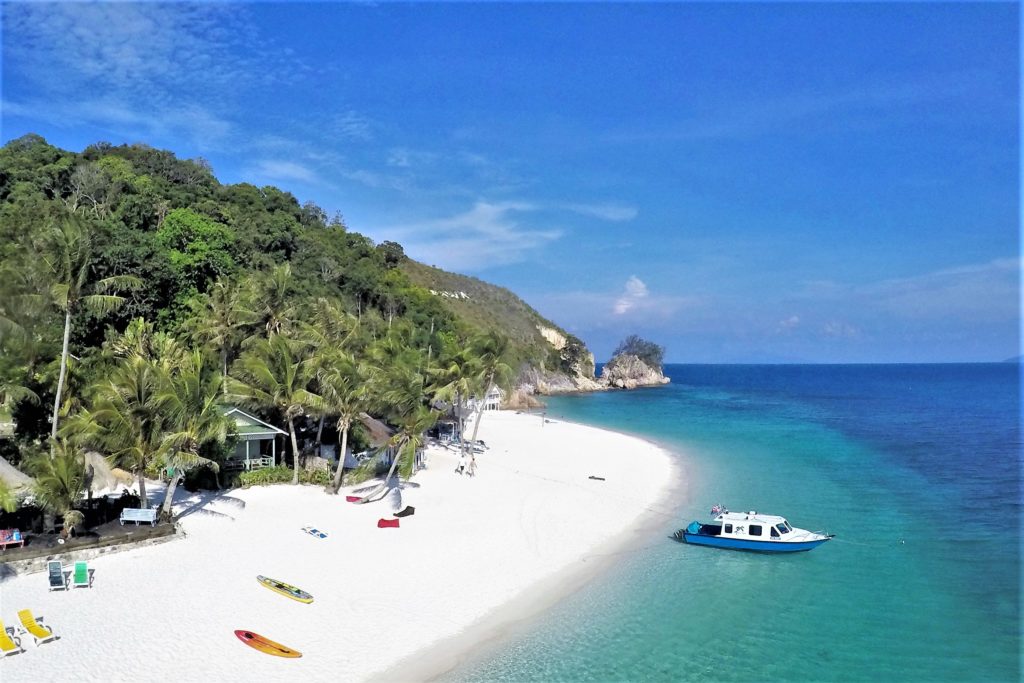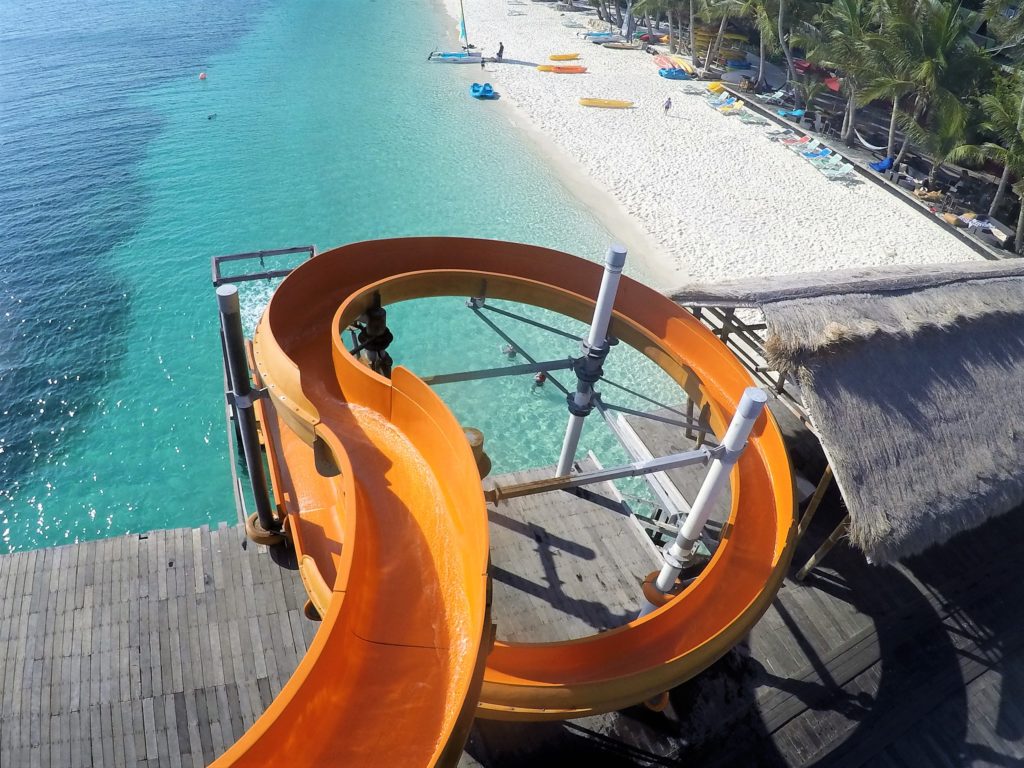 WARNING:
THIS IS ADDICTIVE
There are quite a lot of things that you can do here on this small island. After many rounds of playing the Rawa Slide, I took a shower and went on the Island Walk Trail for a sunset stroll. 
The Island Walk Trail basically skirts around the East Coast of the island. From Alang's Rawa Resort, I headed towards Rawa Safari and went all the way straight to the edge of the island. There are lots of signboard around so it was quite easy to explore.
The Island Walk would eventually lead you to the jungle trekking path. I did not try the jungle trekking as it was getting dark. Will definitely try it the next time I revisit Rawa.
Dinner on Rawa Island was slightly late at 8pm. The food was served in buffet style with lots of variety. They also offered cocktails and fruit juice (charged separately). The one thing I regretted was I did not try their famous, vicious Rawa Special Cocktail!
Lesson learnt:

Never resist temptation on an island
One thing I like about Alang's Rawa is that they have their dining tables all lined up in a row. So it was easier to mingle around and make new friends, especially for solo travelers like me.
Had a long and fun chat with my Rawa neighbours Stefan and Franzi from Germany. They were the coolest couple I've met! Both of them worked and saved for 5 months after graduating and now they are traveling across Asia! I have long admired the courageous spirit of Westerners to chase their dreams and what a wonderful thing it was to have friends who encourage you to do the same. 
Midway through our dinner we were joined by Sheena, our friendly host. It was interesting to hear from her about some background history of Rawa and also how she chose to be an island girl. After 3 years working on Rawa, she is conversant in many foreign languages especially German. In short, Rawa is filled with many many cool people and plenty of positive island energy!
Day 2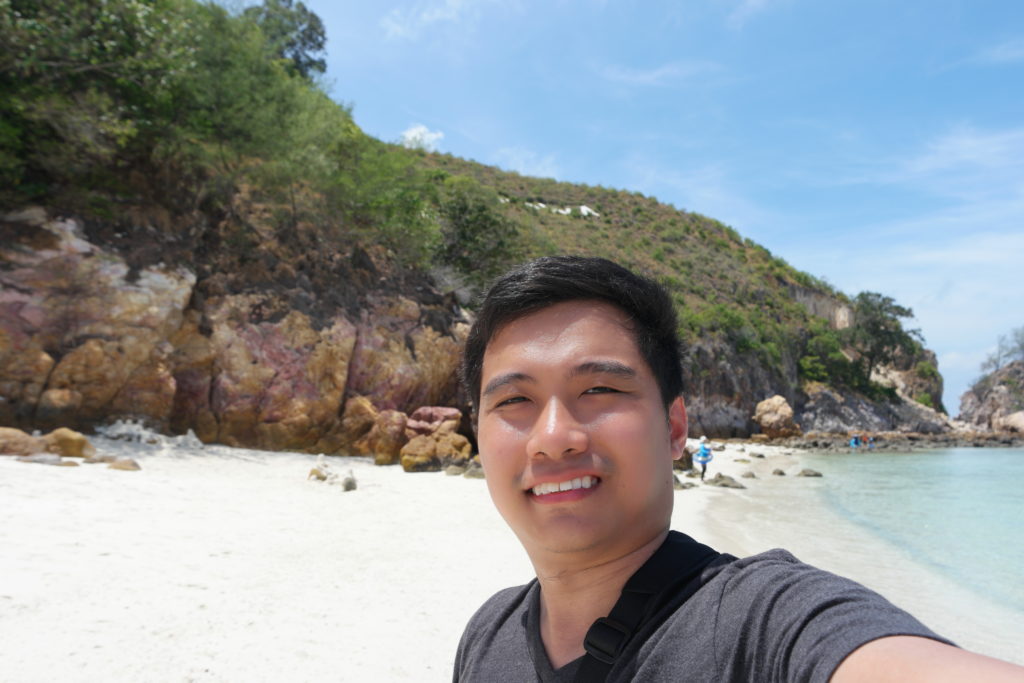 I was recommended by Alang's Rawa staffs to try the Hilltop Walk which promises a stunning view of the island. It got my adrenaline going as I've never read or heard about this Hilltop Walk before. After settling my breakfast, I got myself on the Hilltop Walk in no time as I couldn't wait to see what more Rawa Island has to offer.
The Hilltop Walk is located at the back of the beach and you can access it by following the Hilltop Jungle Trekking path behind Rawa Safari Resort.
 From the beach to the Hilltop Walk took me about 15 to 20 minutes. A very short and easy route thanks to the well maintained paths and stairs. After the stairs, you will reach a plateau but this is not the highest point. If you are more adventurous, head right over the rocky paths and you will be rewarded by views that would stay in your memory for a long long time.
If you thought that the view at the peak was the best, then you should read on. No doubt at the peak you get this amazing view of the cliff at the back of the island. But what you are about to witness next is the true highlight of the entire hike.
Keep walking on over the peak until you see a plateau overlooking the sea towards the triplet islands of Pulau Besar, Tengah and Hujung. That's the spot that gives you the best view of Rawa Island.
Never thought I could get a bird's eye view of the beach and jetty from up here. Such a breathtaking view especially under this sunny weather. Totally exemplifies the beauty of Pulau Rawa. The water is so clear that you can see the corals and sea bed beneath. 
As I have to check out by 12 noon, I couldn't stay much longer and had to head back down after soaking up the stunning views. After packing up my stuff, there was still a bit of time left before lunch and I decided to explore around the beach, especially those areas that are now exposed due to low tide.
Finally it's time to bid goodbye to Pulau Rawa and all the cool people here. Thanks to Alang's Rawa friendly staffs and also the hilltop hike experience, I would say it has exceeded my already high expectations for the island. 2D1N was definitely too short for me and I will surely return in the near future (if I'm fortunate enough as they are always fully booked). 
Goodbye Pulau Rawa! 또 만나요!
---
Travel Expenses Breakdown
Bus fare from Singapore to Mersing Jetty (one-way): $36.50 (~RM109)
2D1N Package by Alang's Rawa Resort Beachfront Room: RM653 (1 pax)
---
Getting there:
Location: Pulau Rawa, Mersing, Johor
From Singapore: Direct bus (The One Travel a.k.a. Five Stars) from Boon Lay Shopping Centre (6:45am) to Mersing Jetty (Please check their website for return trip option)
From Mersing Jetty: 2-way boat transfer to Pulau Rawa provided by Alang's Rawa Resort 2D1N Package
Accommodation: Alang's Rawa Resort