Pulau Sibu, or Sibu Island is one of the many islands off the East Coast of Johor. Although it is not the most famous one, I was still curious about what Pulau Sibu has to offer especially after reading good reviews on Trip Advisor. 
This time around I traveled with my brother (well I dragged him to travel with me). There are actually four islands in Pulau Sibu: Pulau Sibu Besar, Pulau Sibu Tengah, Pulau Sibu Hujong and Pulau Kukus. The one that we went was Pulau Sibu Besar and we booked our 3D2N stay with Sea Gypsy Village Resort, arguably the most popular resort on the island. Check out my full review of Sea Gypsy Village Resort here! 
Boats to Pulau Sibu depart from Tanjung Leman Jetty. There are currently no buses that go to Tanjung Leman Jetty from Singapore. Fortunately, Sea Gypsy offers the option to take their Subsidised Road Transport which is a chartered 7-seater from Singapore directly to Tanjung Leman Jetty (RM160 per pax for two-way). 
We took Sea Gypsy's Susidised Transport and departed from Somerset's Grange Car Park on Saturday morning. The driver called us when he arrived so make sure you provide them a contactable mobile number. Their 7-seater is usually a white or black Hyundai Starex with Johor State number plate.
It took us around 3 hours to reach Tanjung Leman Jetty. We paid a National Park and Marine Conservation fees at the jetty counter and off we go!
Day 1
We set off from Tanjung Leman Jetty at around 2:30pm and reached Pulau Sibu just before 3pm. Sea was very calm on that day, similar to conditions when I traveled to Pulau Besar and Pulau Rawa in May this year.
Once we stepped off from the boat, immediately we were mesmerized by the shear vastness of the beach. It is more towards the golden brown, but the length and width of it is by far the largest I've seen so far. So wide as if you can get a horse and gallop for a few hundred metres!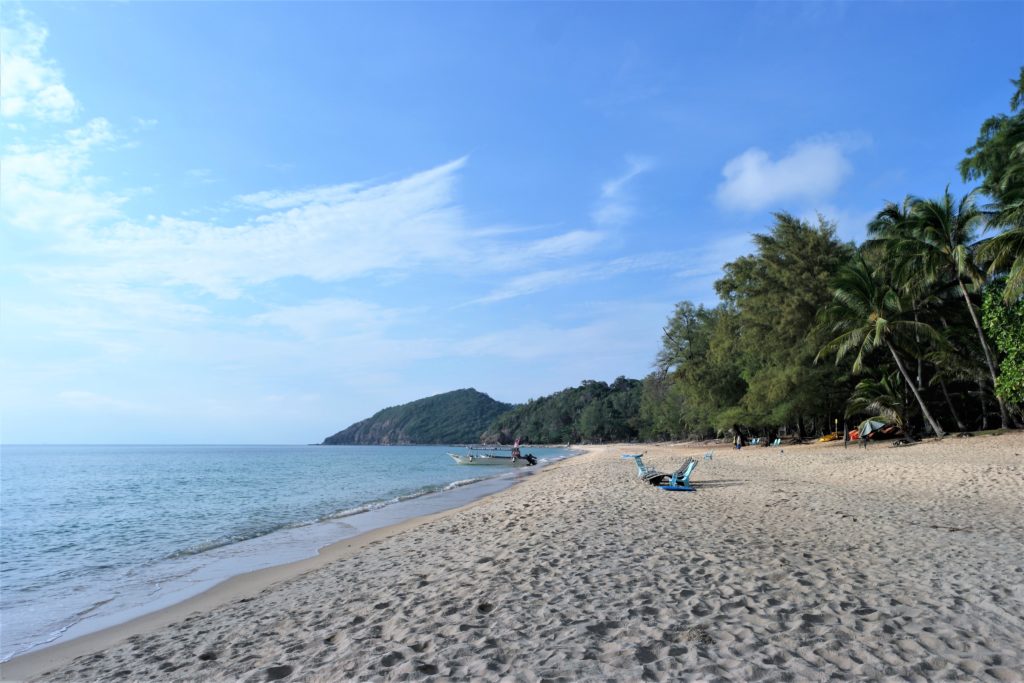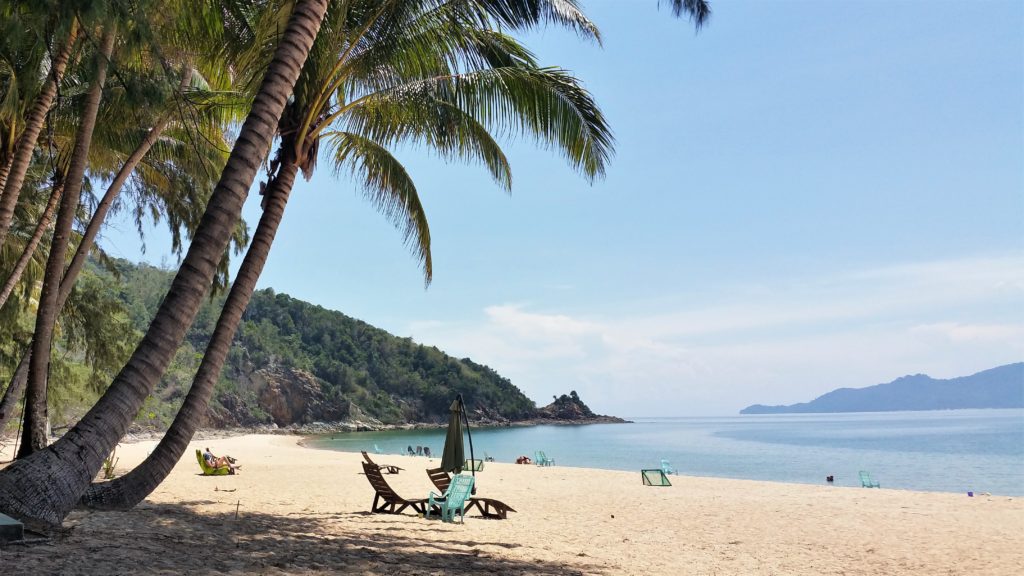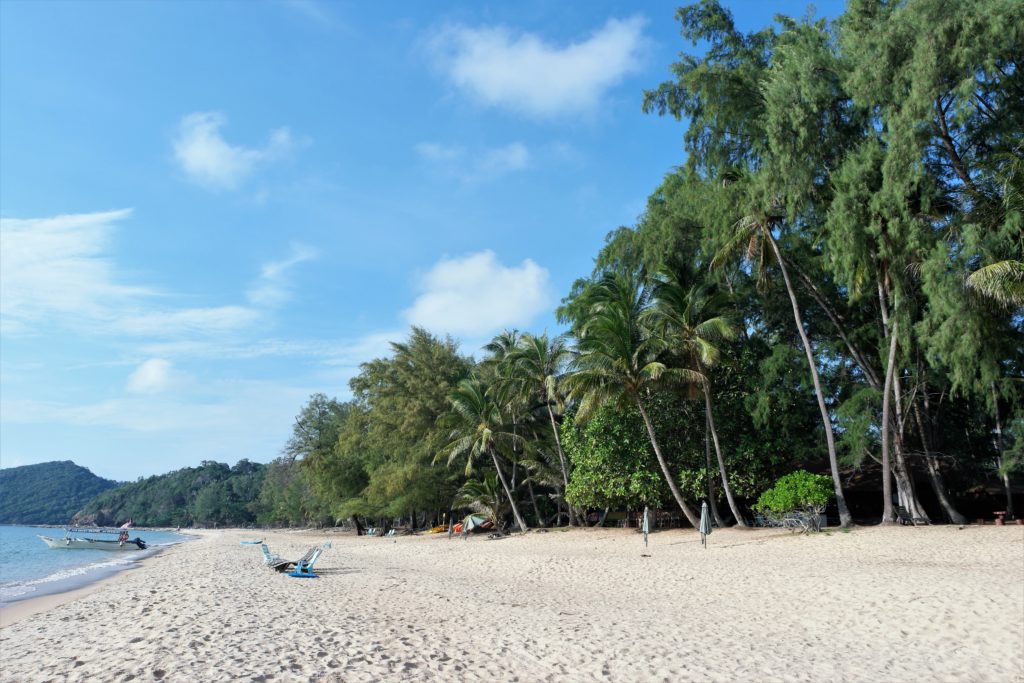 Sea Gypsy Village was founded by a Scottish family and is currently run by mostly British staffs at the front end. Felt as if we were having vacation in a foreign country! We made our 3D2N package payment (RM828 per pax including road and boat transport) at the resort office after checking in to our chalet. The wooden chalet was built in traditional Malay Kampung style with an attached bathroom.
The chalets are spread over the luxurious compound behind the beach. Such vastness makes the entire village extremely relaxing and windy all around.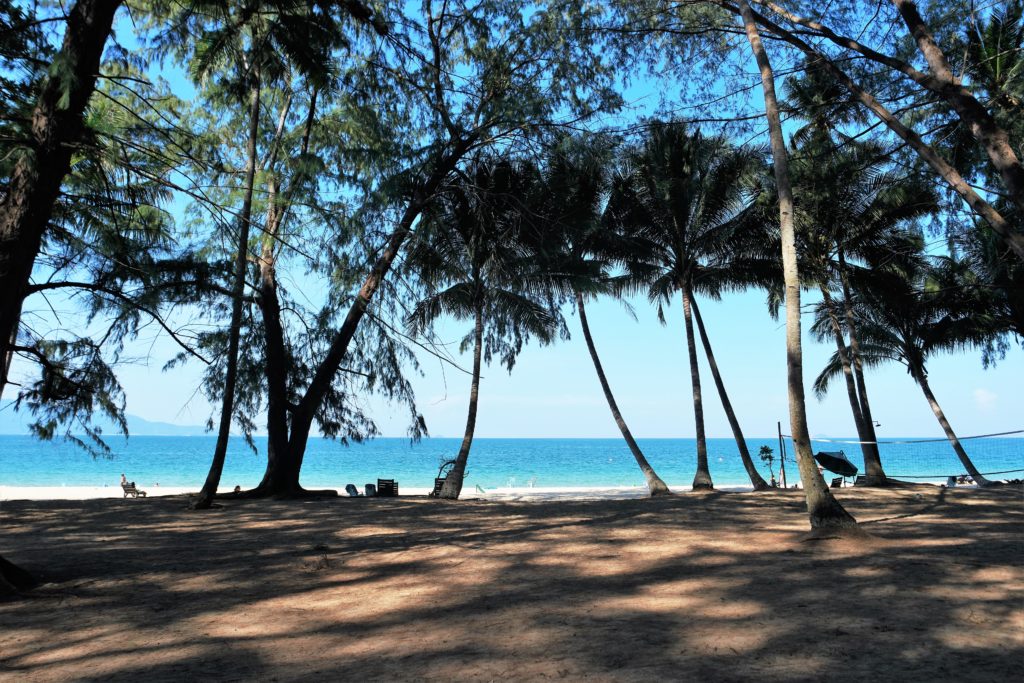 We took a dip to test out the sea and it was very different from what I've experienced on the other islands. There is nothing but just smooth, soft sand on the sea bed, gradually (very gradually) deepens away from the beach. There was even hardly any sea shell! It was as if the entire sea bed was man-made for non-swimmers and children. If you'd like to see fishes or corals, you'd need to swim to the rocks located at both ends of the bay.
After exploring the beach and village, we signed up for a Sunset Outing Trip to Lima Kechil Island (RM50 per pax) which is about 20 minutes boat ride away from our base. We set off at around 6pm to this uninhabited island and it didn't take long for us to realize why Lima Kechil could be our favourite hideaway spot!
We were a little out of luck with the sunset as there were clouds on the West. However, take nothing away from the beauty of Lima Kechil. The beach is located on a plateau slightly above the shore.
We laid mats, had some beer by the camp fire and just chit chatting with other tourists. We shared the same mat with Doné, a South African tourist working in Singapore. She couldn't stop praising the beauty of islands in Malaysia. She had been to Langkawi and absolutely loved there and was surprised how much greenery we have in our country.
The view at the back of the beach was equally as stunning, with beautiful rock formations. A full sun set here would really be the icing on the cake! Quote Doné:
Beautiful, just more beautiful!
While we were chillaxing on the beach, a few of them went out on a night diving trip. They were so excited as they came up close with a 7-foot long giant sea turtle! Certainly didn't expect the sight of giant sea turtles here as they are more frequently spotted off the coast of Terengganu. We headed back to Sea Gypsy at around 8pm for our barbecue dinner. The feeling of riding a night boat was very chilling and unforgettable. Didn't take any picture of our first dinner (it was the best dinner of our trip!) at Sibu as we were too hungry.
Day 2
We began Day 2 with a morning snorkeling trip to Mentinggi, an islet in front of Pulau Tinggi. Mentinggi is just around 20 minutes away from Sibu and its crescent-shaped beach was one of the most beautiful sights that I've seen during our entire trip. 
The beach here was white and soft while the water was clear. But visibility underwater as we approached the corals were not the clearest. 
Pardon for the blur photos as there was a white spot at the middle of my Gopro formed by condensation. Did not notice it until I shot most of my footage. Corals here were beautiful and there were lots of fishes too. We were out of luck with the whale sharks though.
The snorkeling trip to Mentinggi took us around 2.5 hours. Definitely worth it as you get to snorkel around Mentinggi, making a full loop around the islet as well as enjoy the pristine crescent beach with Pulau Tinggi as your backdrop. We were starving by the end of the trip and headed back to Pulau Sibu for lunch. 
Meals here were mostly served in buffet style except for our dinner on Day 2. Food was delicious, cooked in international style including Local, Maldivian, Mexican, Chinese, Indian etc. Definitely something that we always looked forward to during our trip.
One thing I like about Sea Gypsy is that they have lots of activities lined up for us during the day. Apart from the Sunset and Snorkeling Trip, there was also a cross-island Kampung Walk! The Kampung Walk is basically a guided nature walk which brought us across the island through Twin Beach and ended up on the front face of Sibu. If you look at the map I shared on the top of this post, you will get a better picture of the route. 
We began the Kampung Walk by walking towards the right far end of our beach where we had to get pass some rocky terrains. Sports shoes are advisable but some of us (including me) did it in flip flops. 
As we skirted around the island, the rock formations just got more and more stunning. 
After getting past the rocks, we arrived at the beach of Sari Pacifica Resort. I will let you be the judge but I thought that our beach at Sea Gypsy was far far better.
Sari Pacifica Resort was more towards the luxurious kind - transparent villas overlooking the beach, swimming pools, gardens etc. But for whatever reason, it wasn't really well maintained, and the vicinity felt kinda deserted. We hardly saw any tourist here. 
The view just got better and better as we made our way to the other side of the island. The only thing that did not meet my expectation was the lack of canopy and trees. I expected some sort of mild jungle Kampung Walk but it turned out that we were not trekking across any jungle at all. 

The Kampung Walk took around 30 to 40 minutes. Our final destination was a local school at the main entrance to Pulau Sibu. According to our guide, the school only has 18 students and 9 teachers. I wonder how is it like to study on an island. 
We took a speed boat back to Sea Gypsy Village after soaking up the views of the Kampung Walk. 
It was a thrilling ride back as the boatman made a sharp turn around one of the corners of the island AT FULL SPEED!
Dinner on our second day was a simple two-dish meal cooked in Chinese style with cut fruits for dessert. We also ordered a cocktail at Sea Gypsy's bar which is opened for adults only after 7pm (well they do have a Kid's Bar too). 
Day 3
There was a snorkeling trip to a different island - Pulau Kukus on Day 3. But we decided to skip it as we thought it would be a little too rush for us as we had to check out by noon. We just chilled and took a stroll along the beach and around the village. 
Checking out at Sea Gypsy is straightforward. Just pack your stuff and leave them on your chalet veranda. They will be picked up by Sea Gypsy's friendly staffs. We also went to their office to settle our outstanding bills which we accumulated from the Snorkeling and Excursion Trips before bidding goodbye to Pulau Sibu. 
We took Sea Gypsy's subsidised transport back to Singapore. At the middle of our return journey, we had a tyre puncture and our driver Mr. Azman was very calm and professional in changing the spare tyre. It took about an hour but his relentlessness to fix the tyre got us back to Singapore safe and sound. He also agreed to drop us off at Kranji MRT Station so we wouldn't need to take a detour to get home. Thanks Mr. Azman!
---
Getting there:
Location: Pulau Sibu (Sibu Island), Johor.
From Singapore: Sea Gypsy's Subsidised Road Transport from Somerset Grange Car Park to Tanjung Leman Jetty (two-way) > Boat from Tanjung Leman Jetty to Pulau Sibu.  
Accommodation: Sea Gypsy Village Resort