Pulau Pemanggil is another island within the Johor Marine Park which is famous for its rocky cliffs and rich sea life (haven for fishing!). It is located at around 56km off Mersing Jetty, which translates to approximately 1.5-hour speedboat ride journey from Mersing. I booked a 3D2N Fullboard Package with Lanting Beach Resort because it appears that it is the only resort on Pulau Pemanggil. As boat departs early in the morning from Mersing, I had to book an overnight stay a day before departure. I chose to stay at DoubleK Riverside Hostel because it cost only RM25 a night!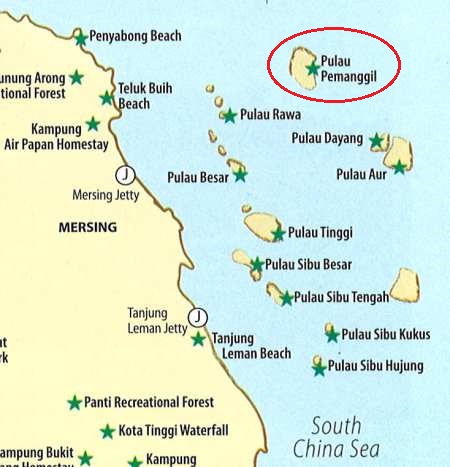 DAY 1
We did not depart from the main Mersing Jetty but from "Jetty 2" instead (at Kompleks Niaga Penghulu Mohd. Aris) which was across the river. Mr. Dean Abdullah from Lanting Beach Resort liaised with me through Whatsapp and shared the jetty location for me a few days before departure so everything was easy. After an uneventful ride, we reached Lanting Beach Resort which is located at the back of Pulau Pemanggil. As the jetty was damaged, we had to get off at a small beach before walking up the stairs and cliff rocks to reach the check-in lounge.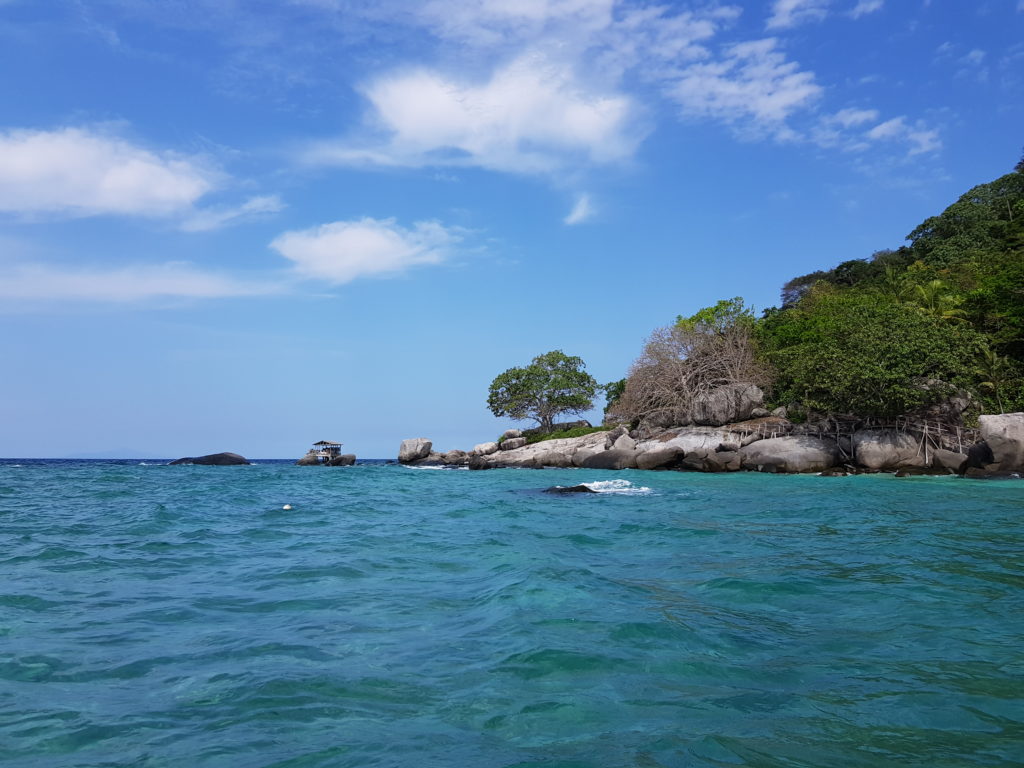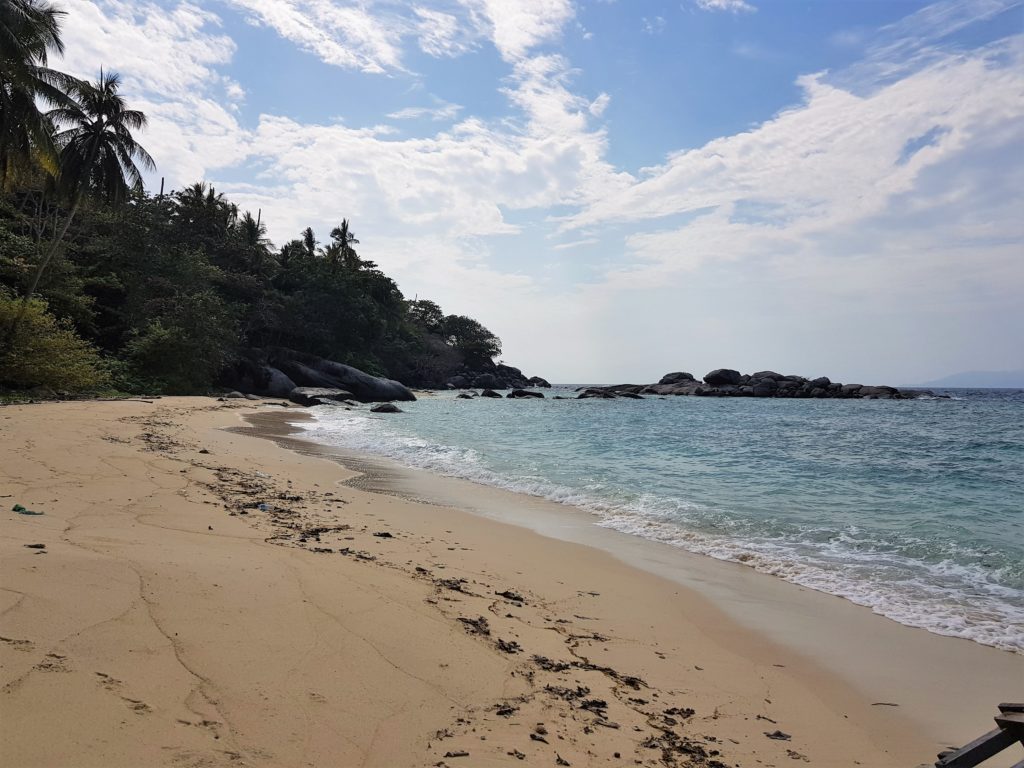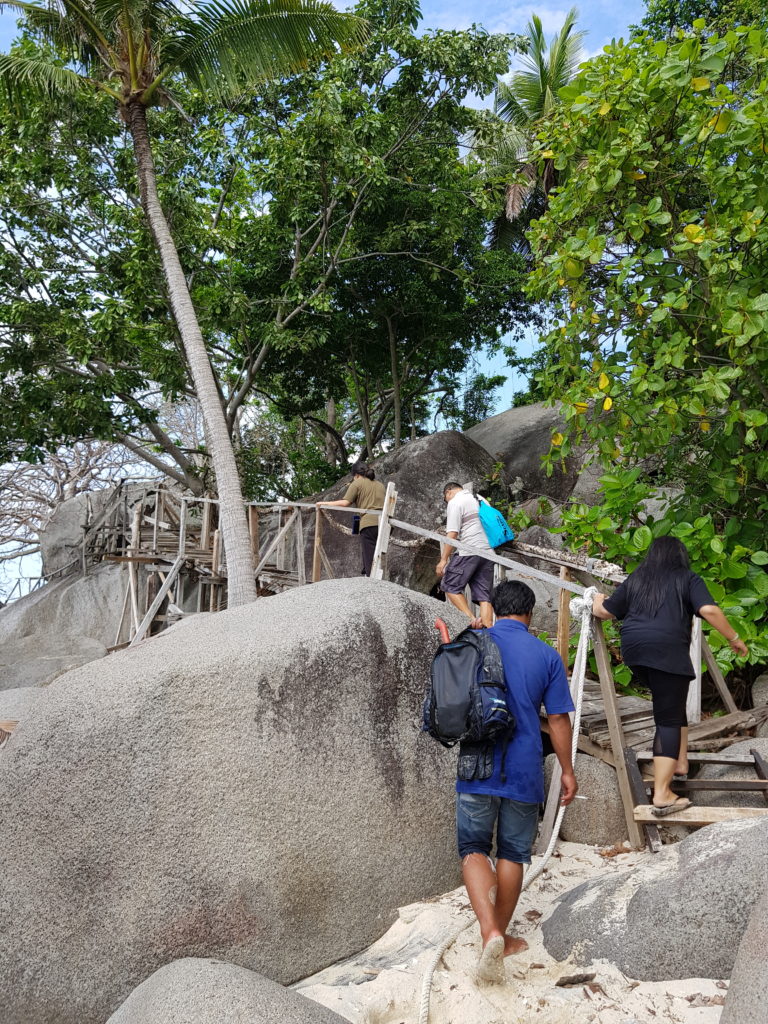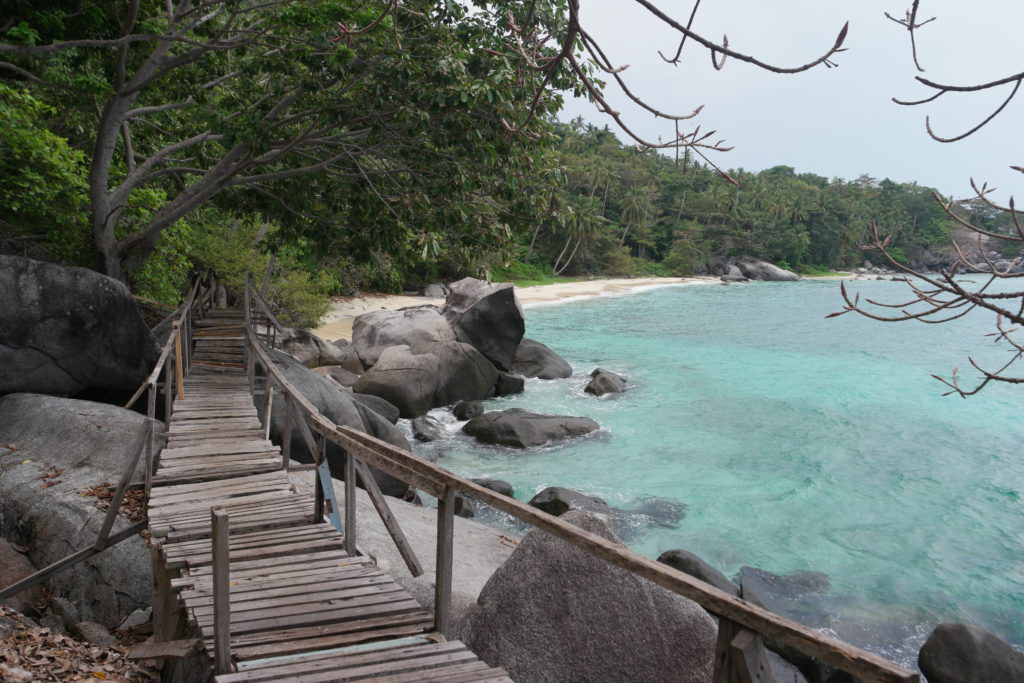 The resort was a little rundown so do not expect a chalet type of resort. As it is built on the cliffs, you need to climb pretty steep stairs and rocks to get to your room and check in lounge. Nevertheless, the view from up here pretty much made up for the climb. Staffs at Lanting Beach Resort are mostly Indonesians and they do not speak good English. But they were friendly enough in my opinion and being a local I had no problem communicating with them.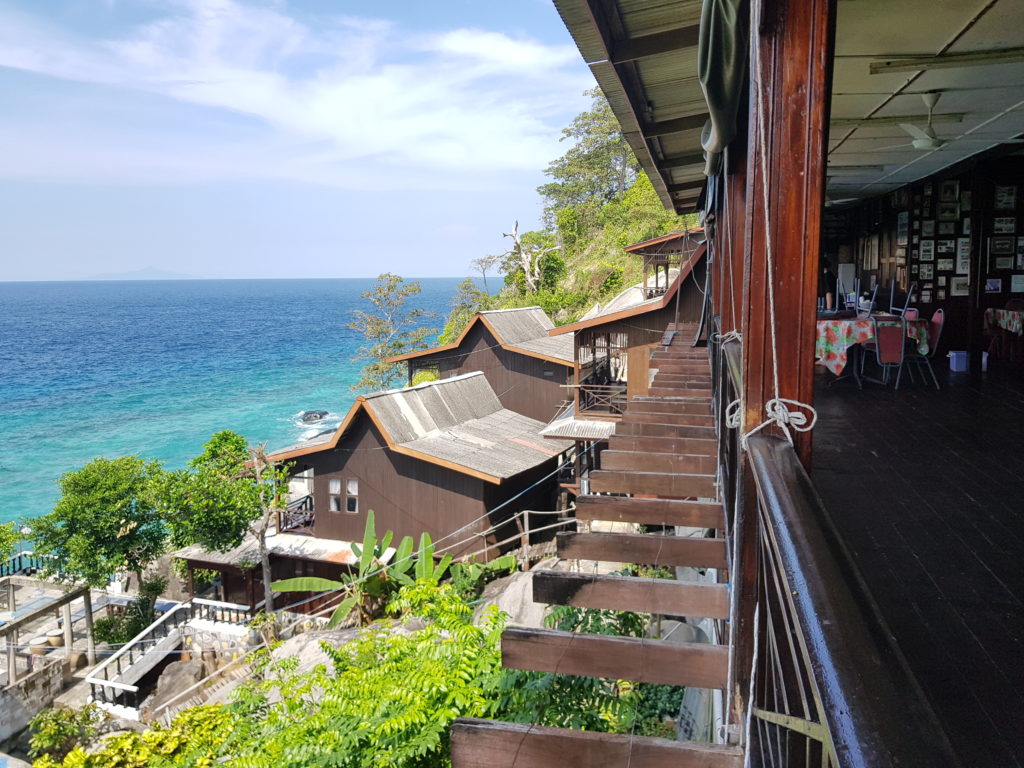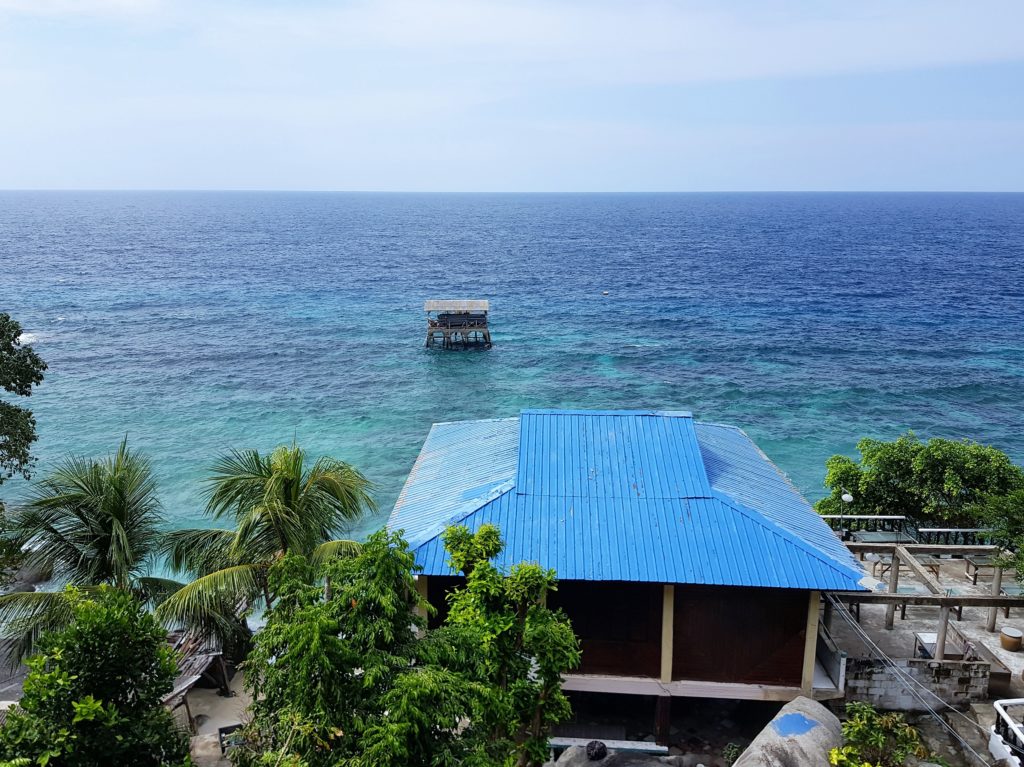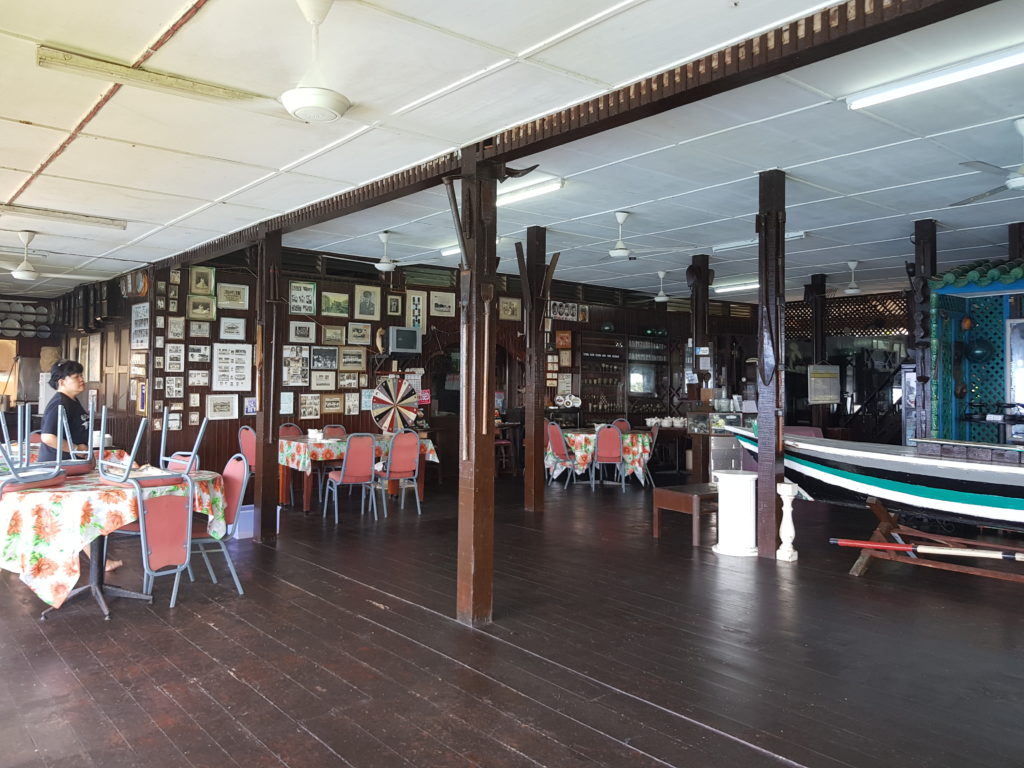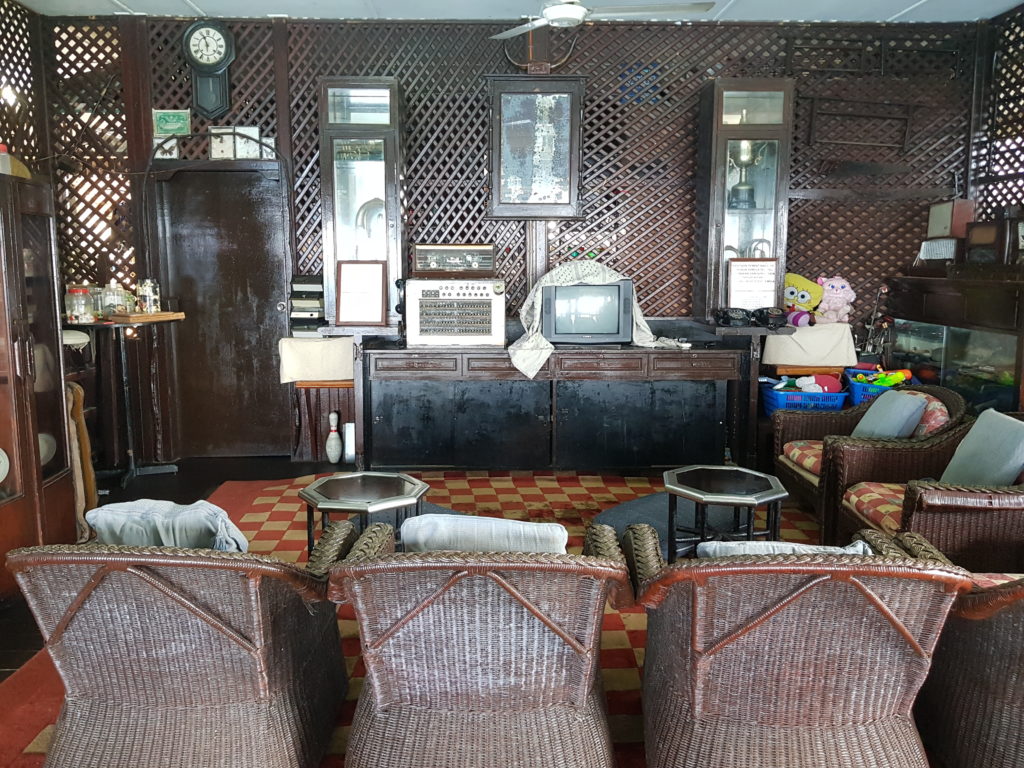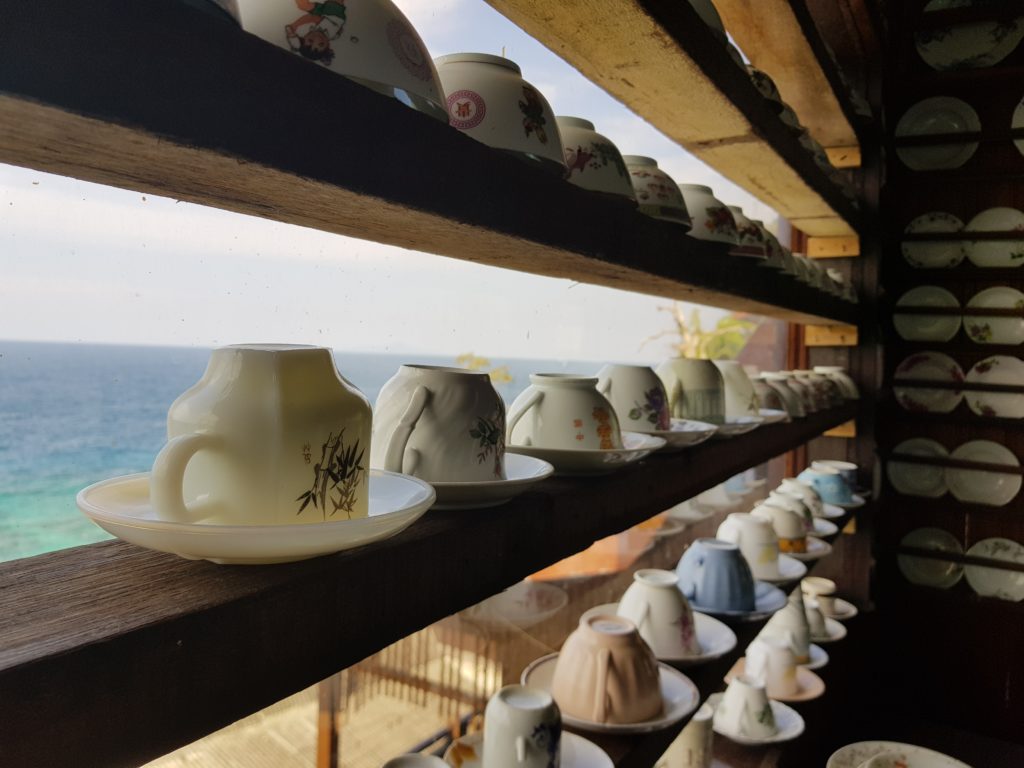 The rooms at Lanting Beach Resort are quite old and not the cleanest. My room door lock was also damaged. Well, on such remote island, it is understandable that the maintenance is not up to par with those more touristy islands.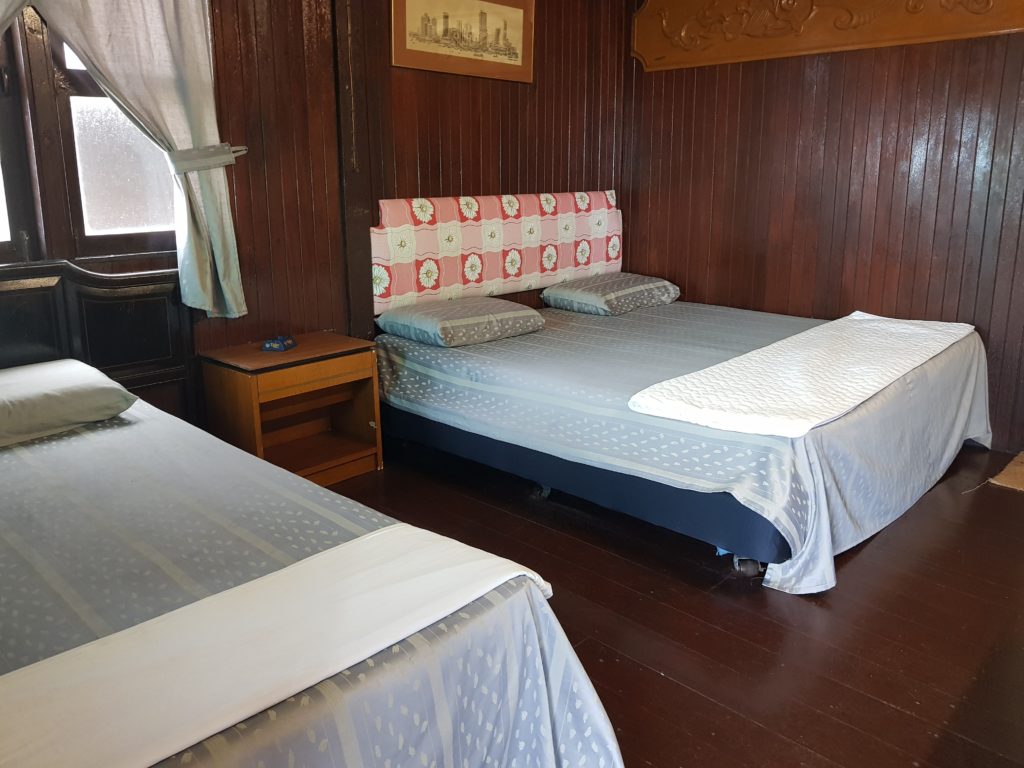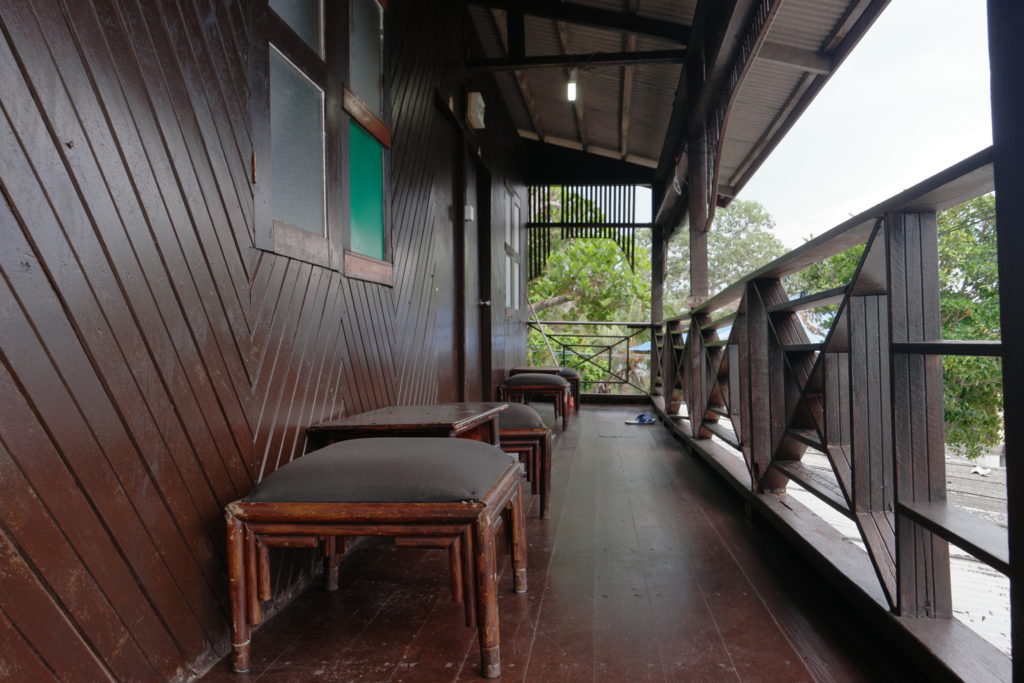 The weather was perfect on Day 1 and I couldn't resist to head out to explore the island as it was free and easy on the first day. When I was there, waves on Lanting Beach were pretty strong so at certain times of the year it might not be suitable for swimming.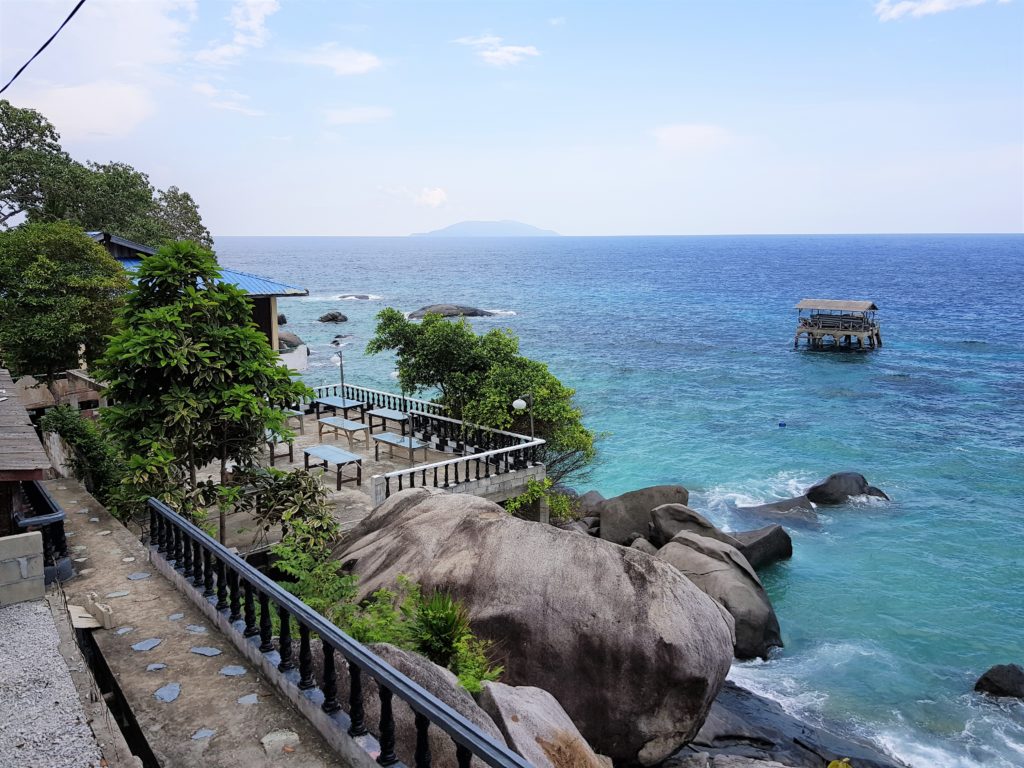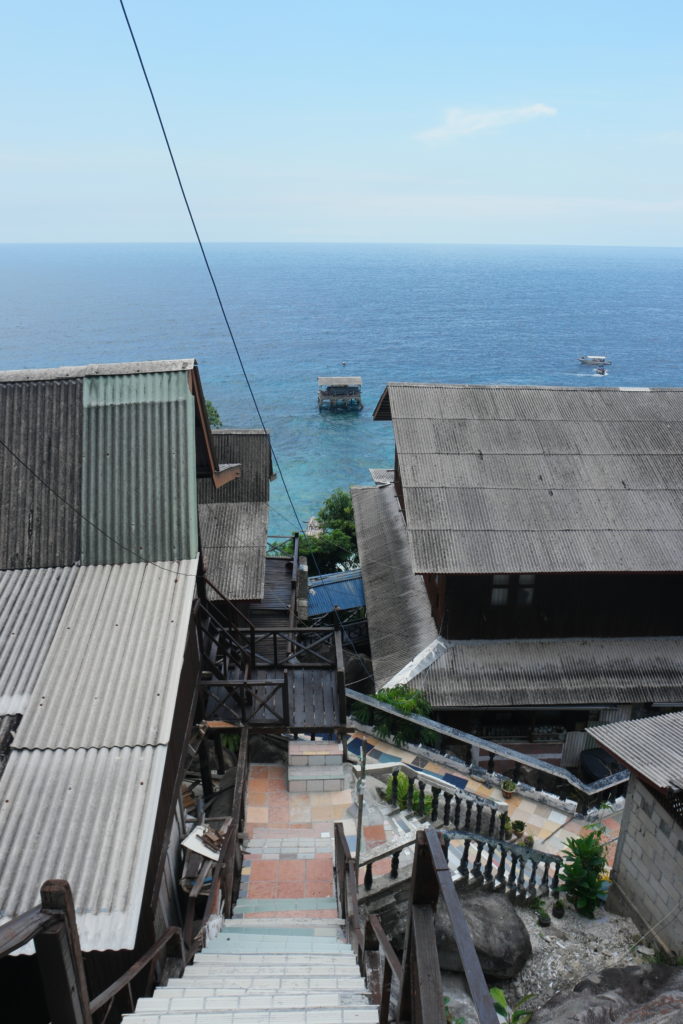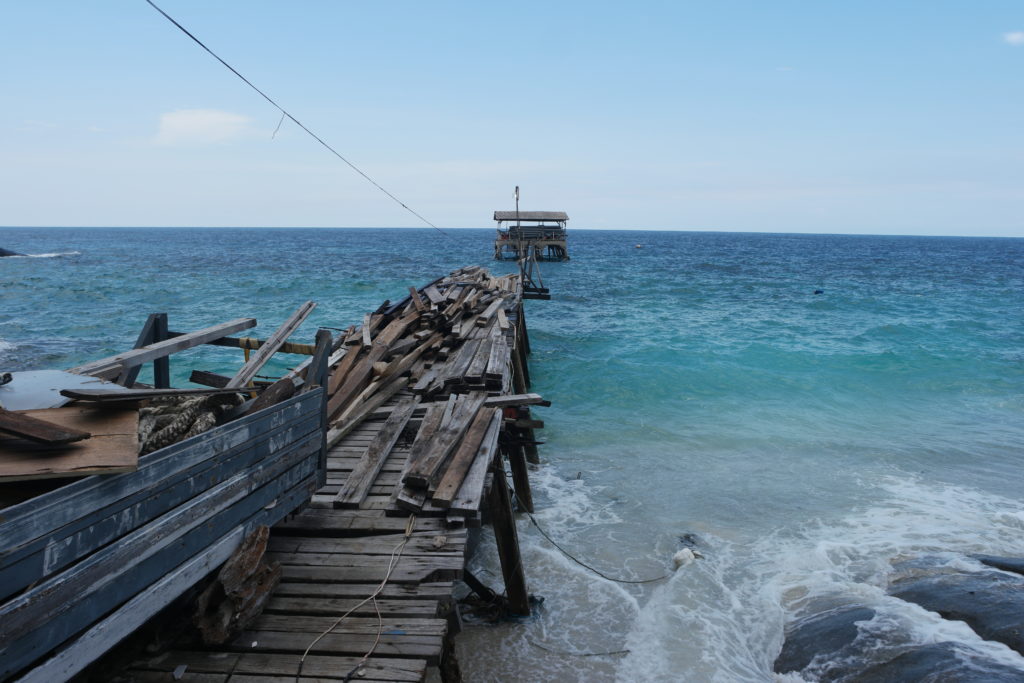 I'd highly recommend that you walk towards the beach and check out the rocky terrain views there. It was my favourite spot and I'm sure you can take lots of beautiful group photos here if you are traveling with friends. Here is also the spot to catch the sunrise. Sunrise photo coming up on Day 3 so read on =)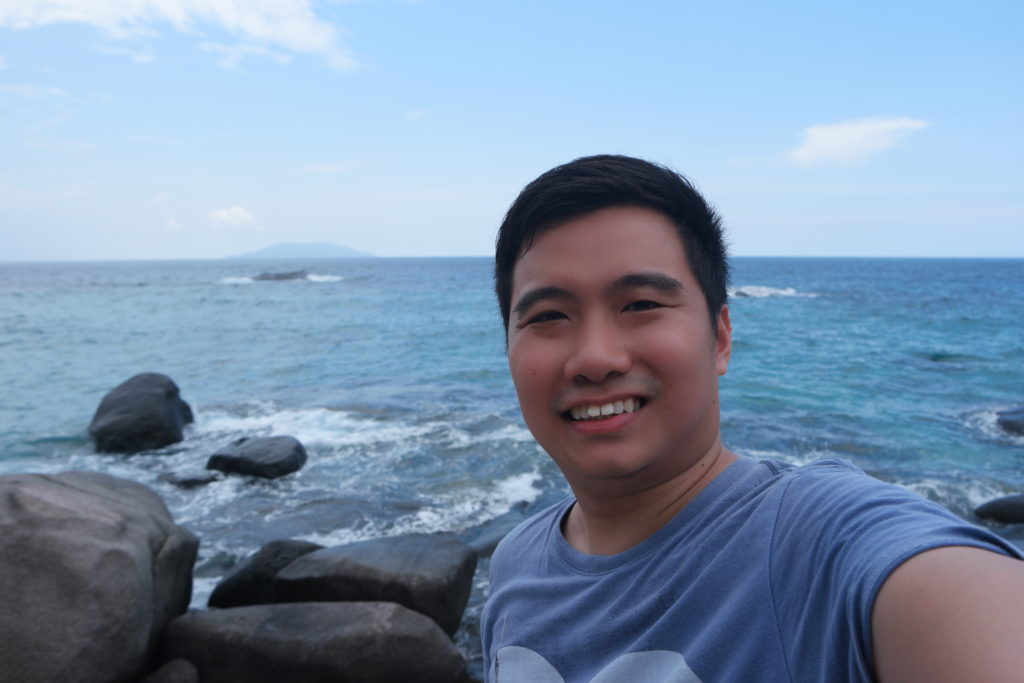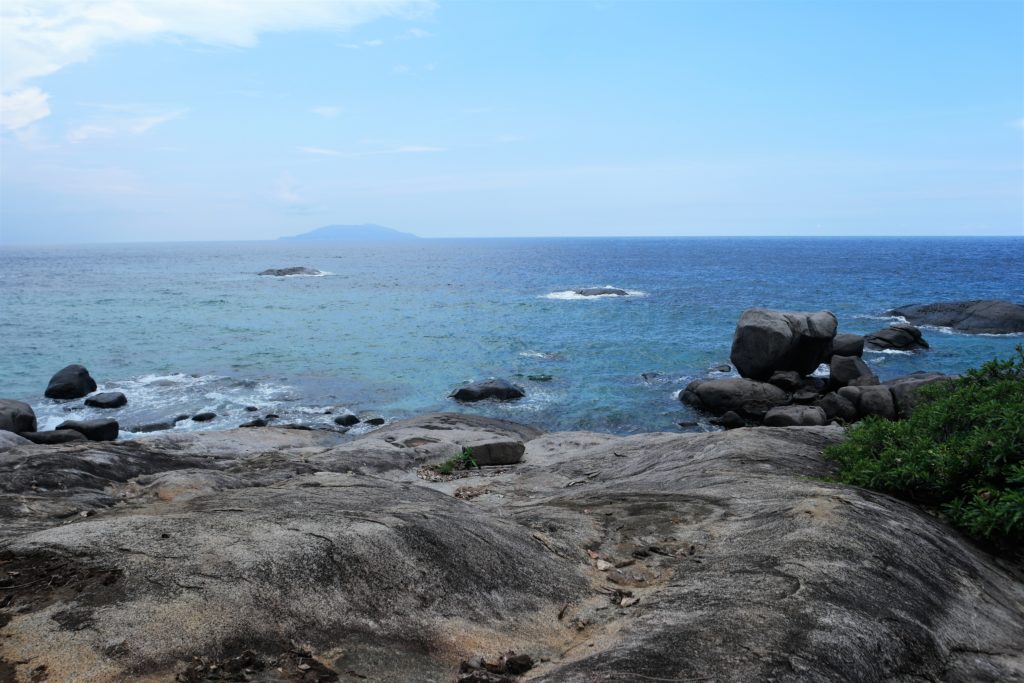 Can you see Pulau Aur from the photo above? I was there earlier this year!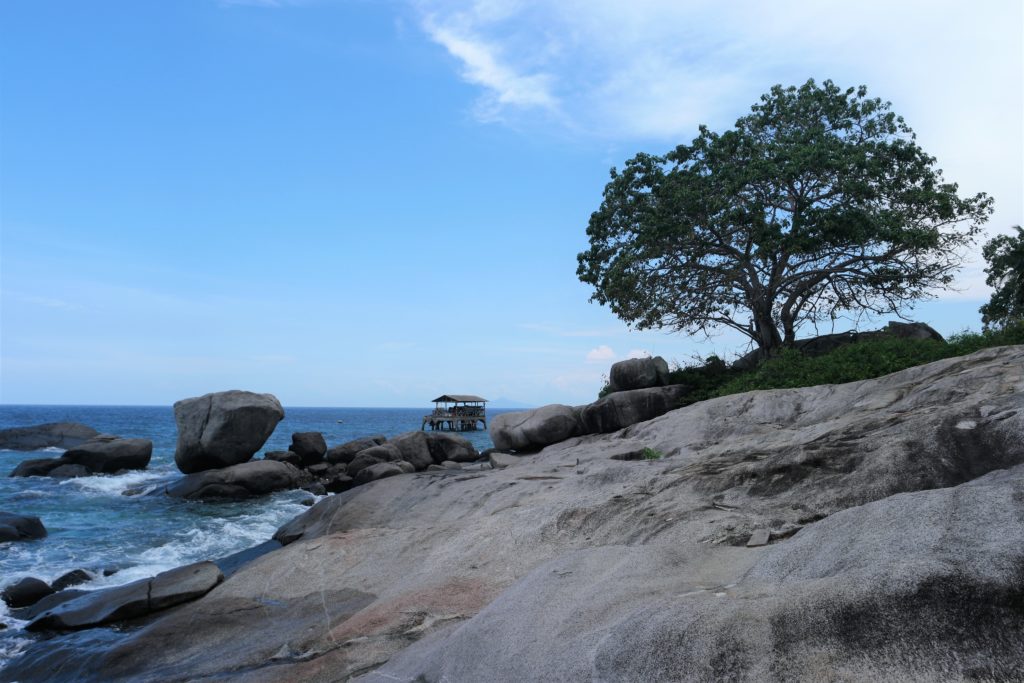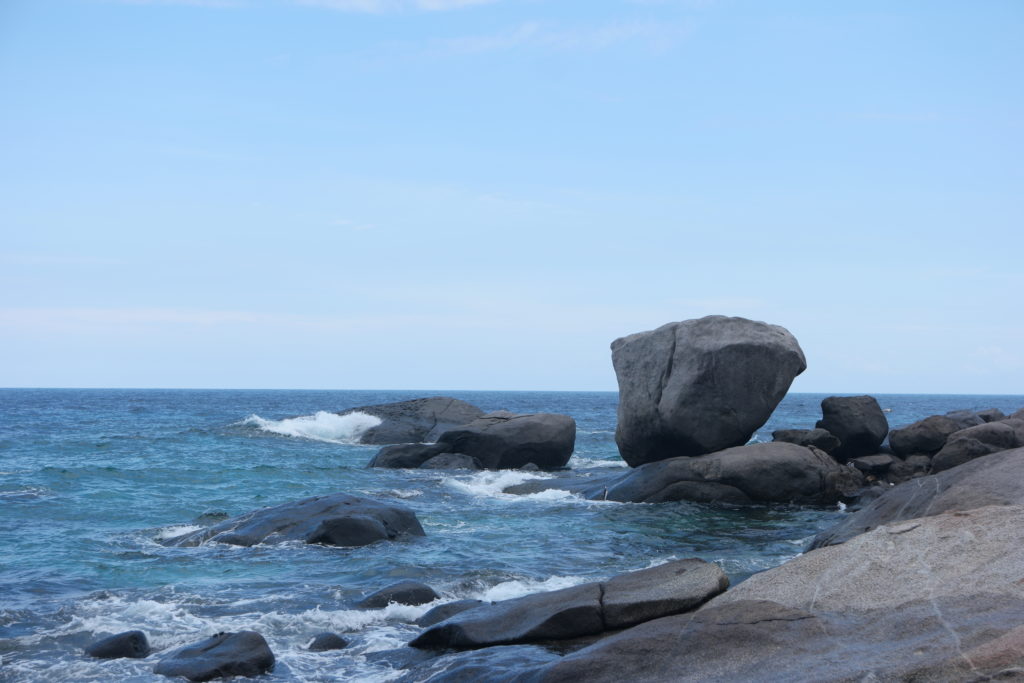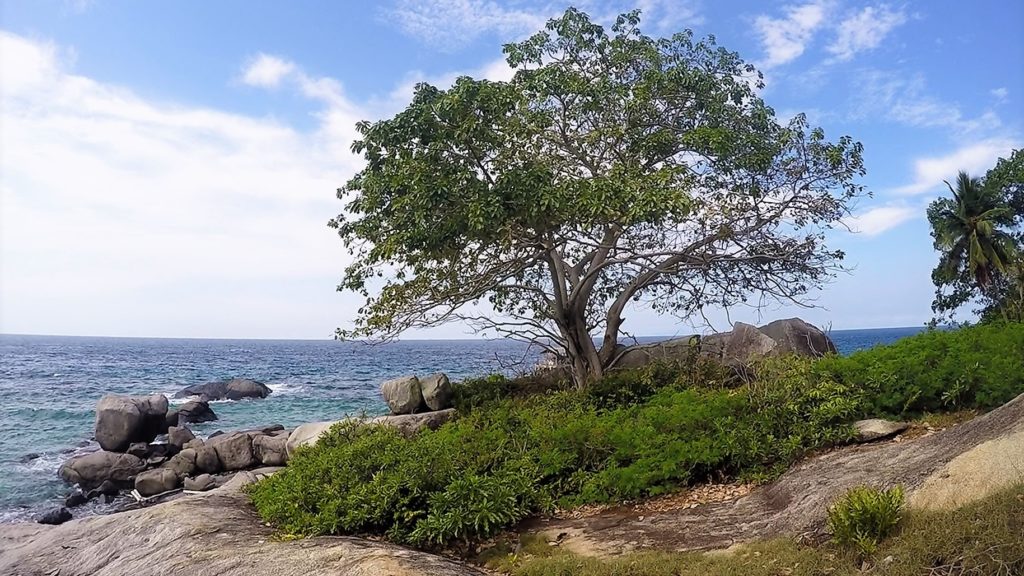 Meals at the resort (included in the package) are home-cooked kampung-style buffet meals. I really enjoyed the food here especially the steam fish in one of our dinners. It was freshly fished from the ocean. If you book your stay over the weekend, they usually have barbecue dinner on Saturday night.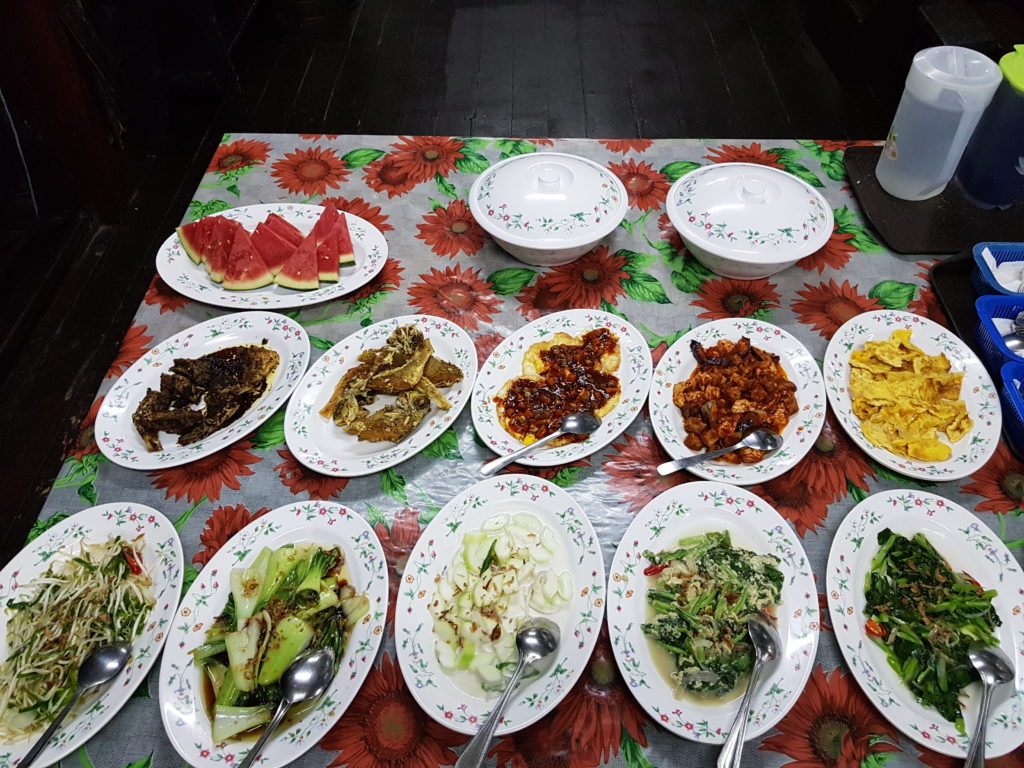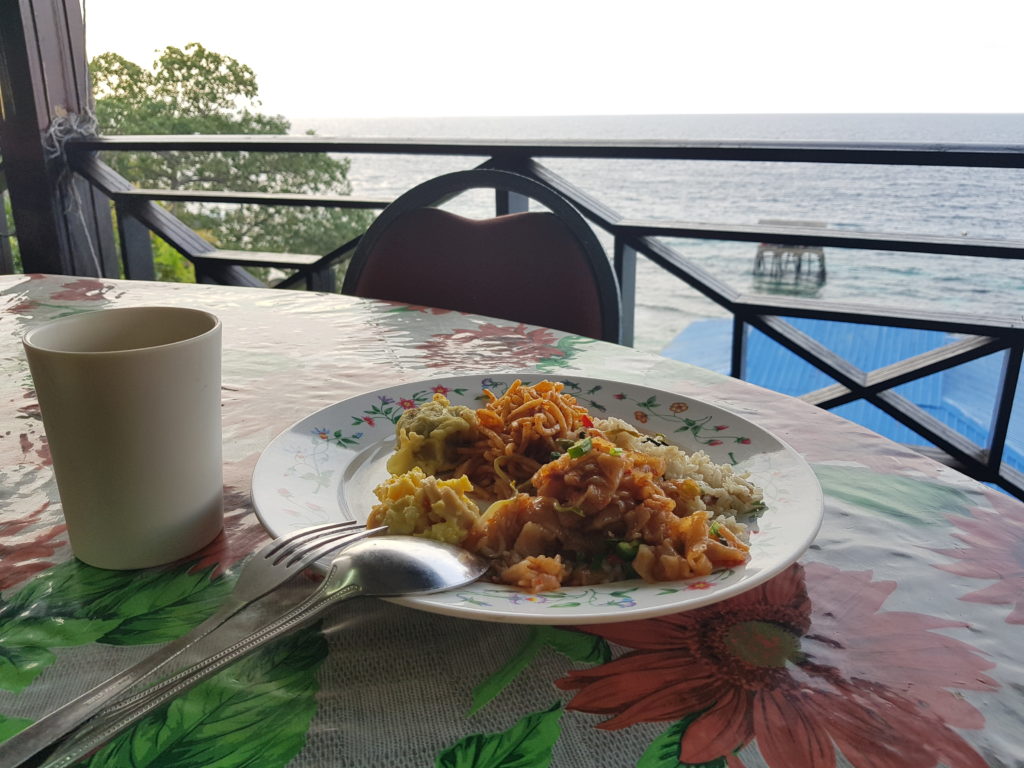 DAY 2
The highlight of our trip falls on Day 2 as we headed off shore for a full-day round-island snorkeling trip. The trips cost RM30 per pax and snorkeling gears are available for rent at RM15.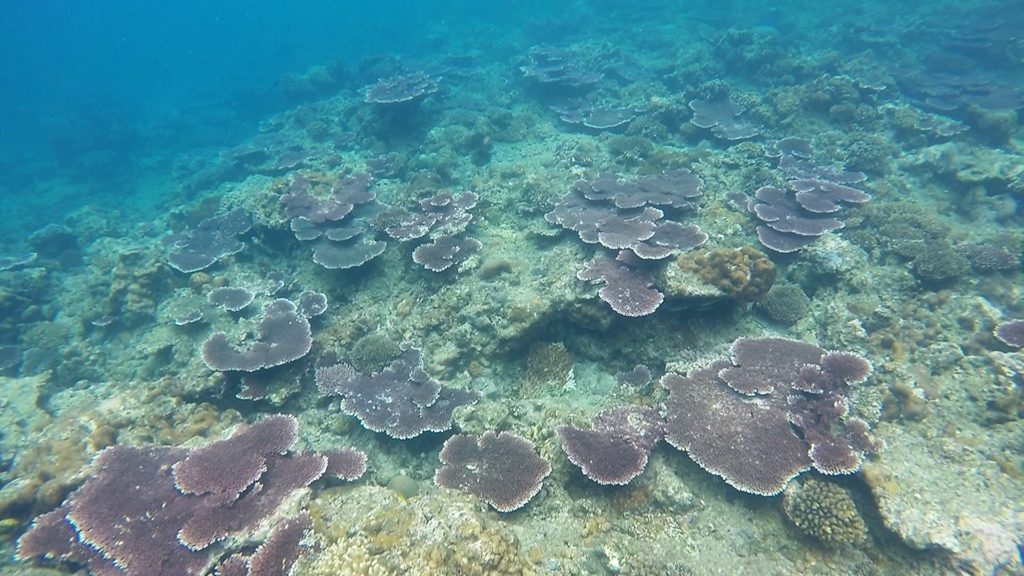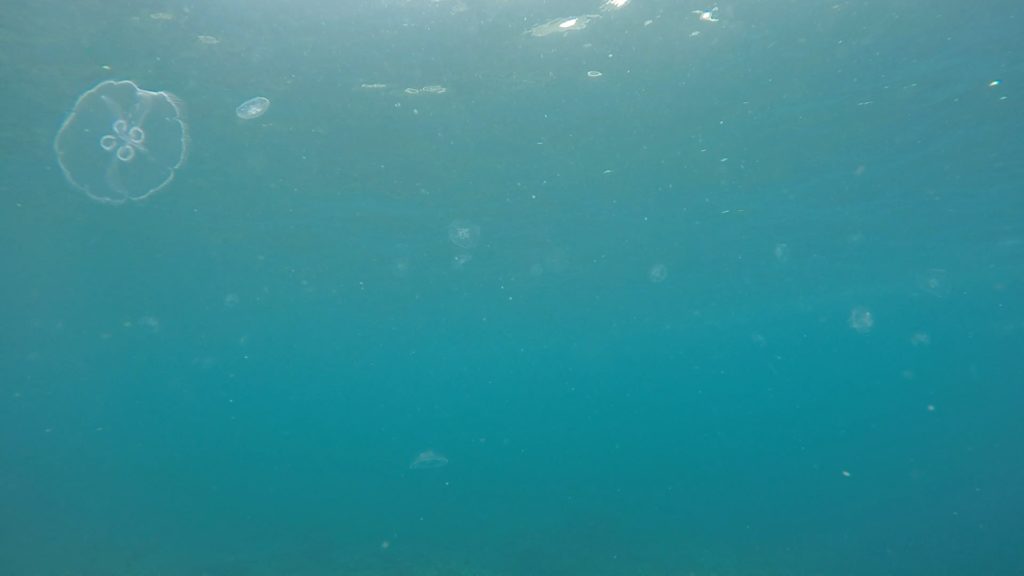 Visibility and coral life around Pulau Pemanggil are not the best. My most memorable moment has got to be the "Shipwreck" which was our second snorkeling spot. We were brought to an area where we could see an engine of a sunken Chinese ship.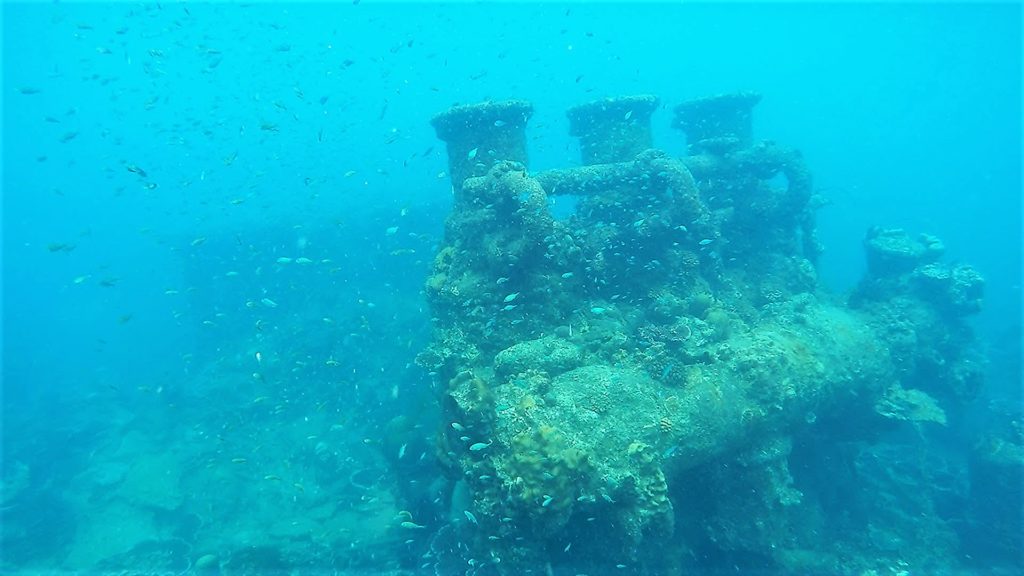 After the shipwreck, we were brought to Kampung Buau, the only established native village remaining on the island for lunch. It was here that I saw the landmark of Pulau Pemanggil - Batu Buau. Towering above the entire island, it is a popular hiking destination among the locals.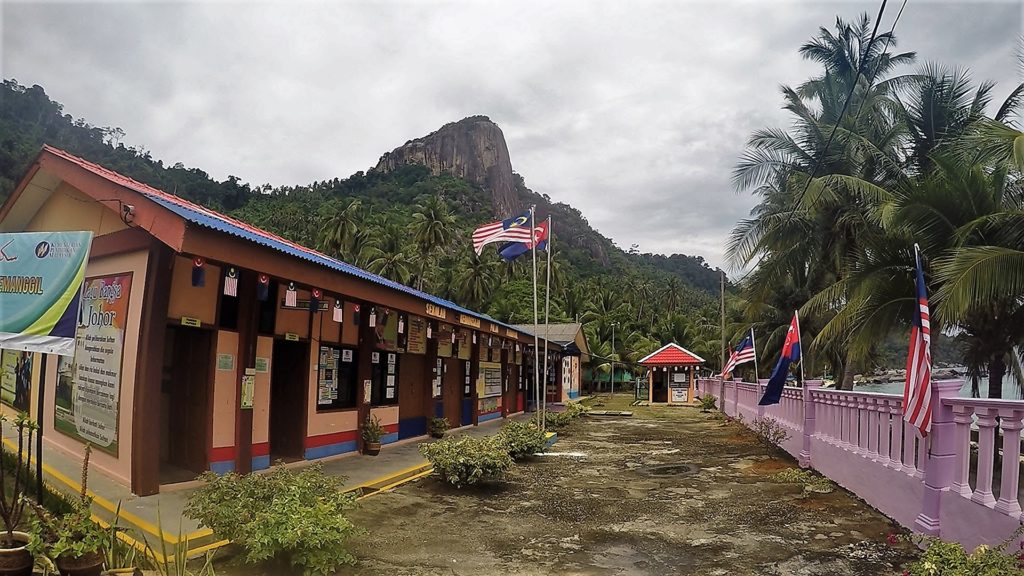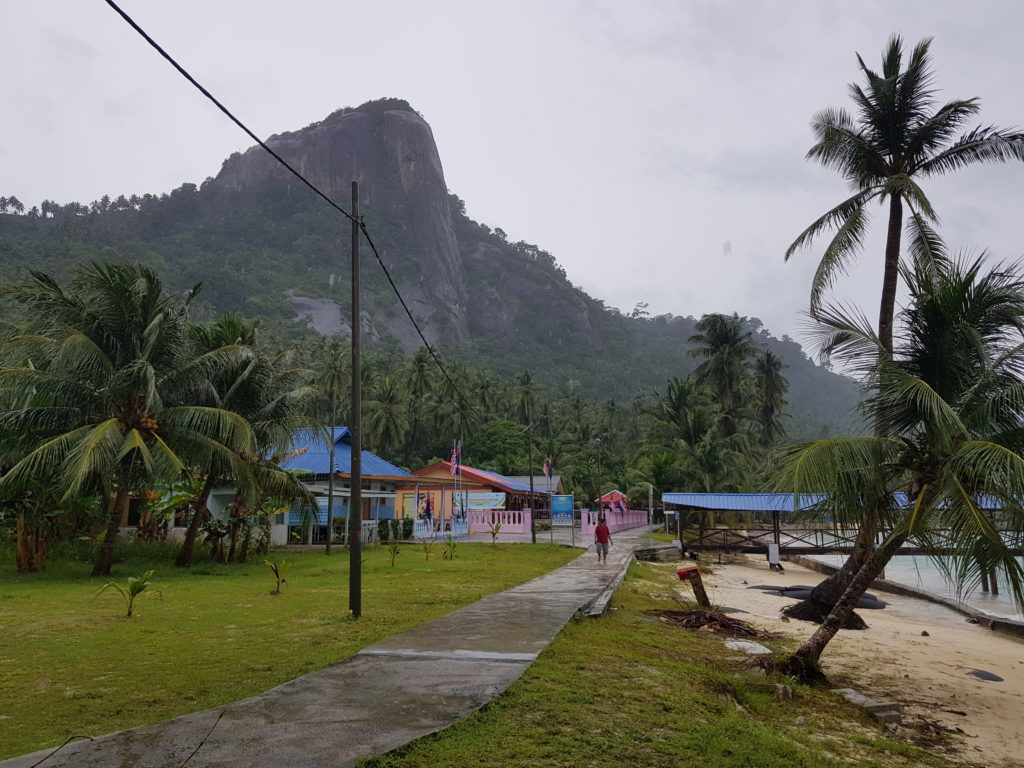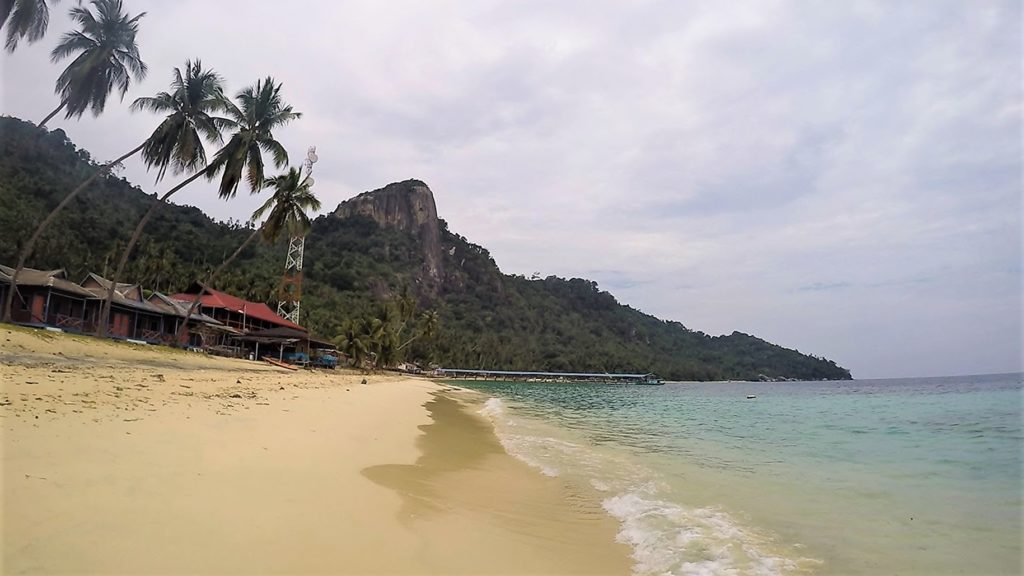 If you are interested to hike Batu Buau, you can talk to the staffs and see whether they are able to organize a hiking trip for you. I've read about blogger Aefit Bentuah's hiking experience on Batu Buau and it certainly excites me to try it one day! Check out his blog here (in Malay) for more details. Photos below are taken from akukahtuah.blogspot.my.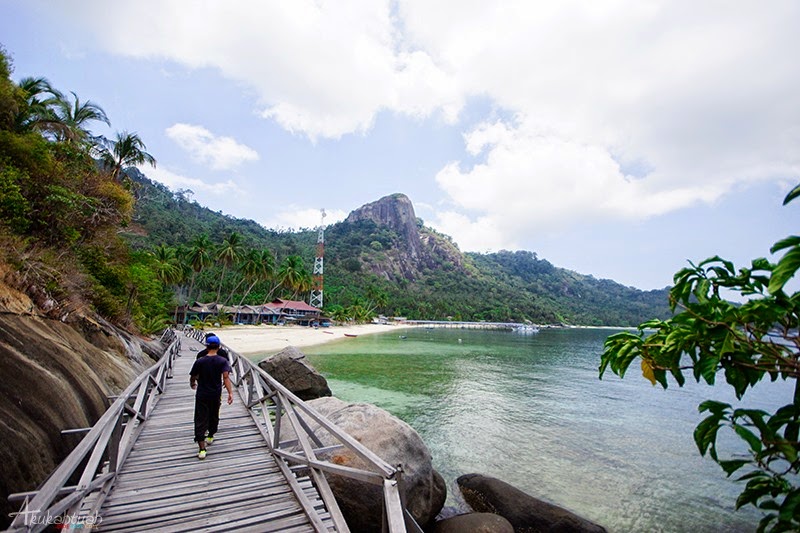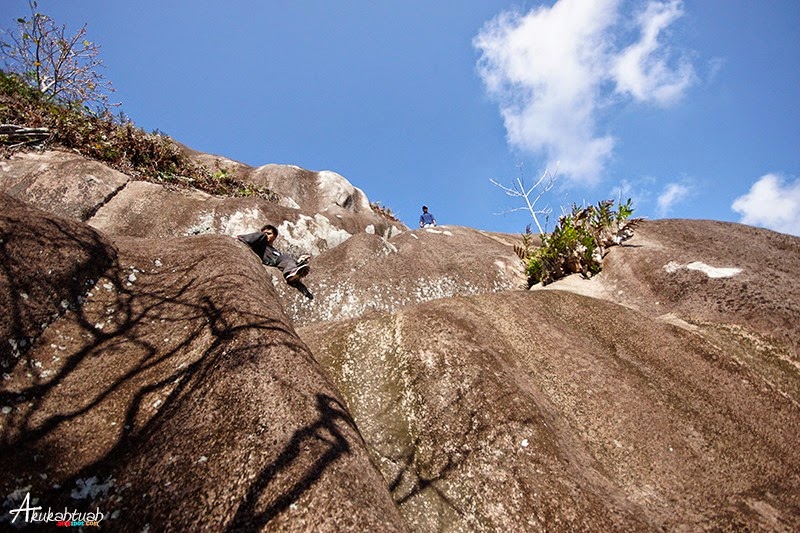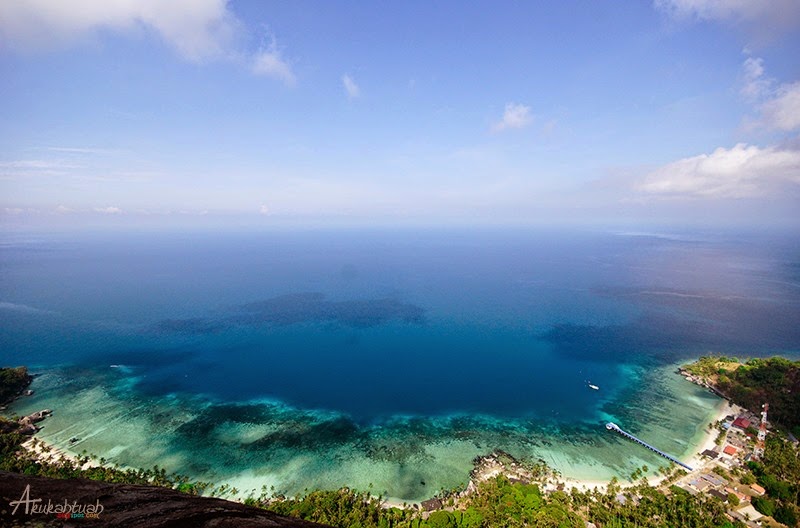 After our late lunch, we headed out to our final snorkeling spot which they called the "Nemo Area". From my snorkeling experience, Nemo (clown fish) are usually seen at a depth of around 5-7 metres from the sea surface. If you have your life jacket on, it is quite difficult to get up close with them even if you tried to extend your underwater GoPro stick (as I've tried a few times). However, this Nemo Area has this shallow rock which surprisingly houses the Nemo habitat that we were able to get up close with them.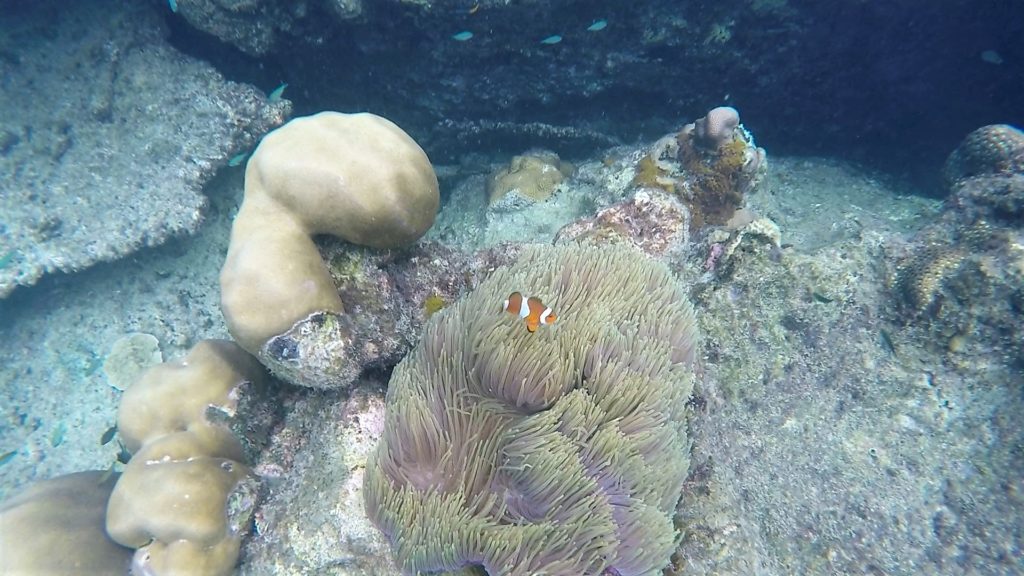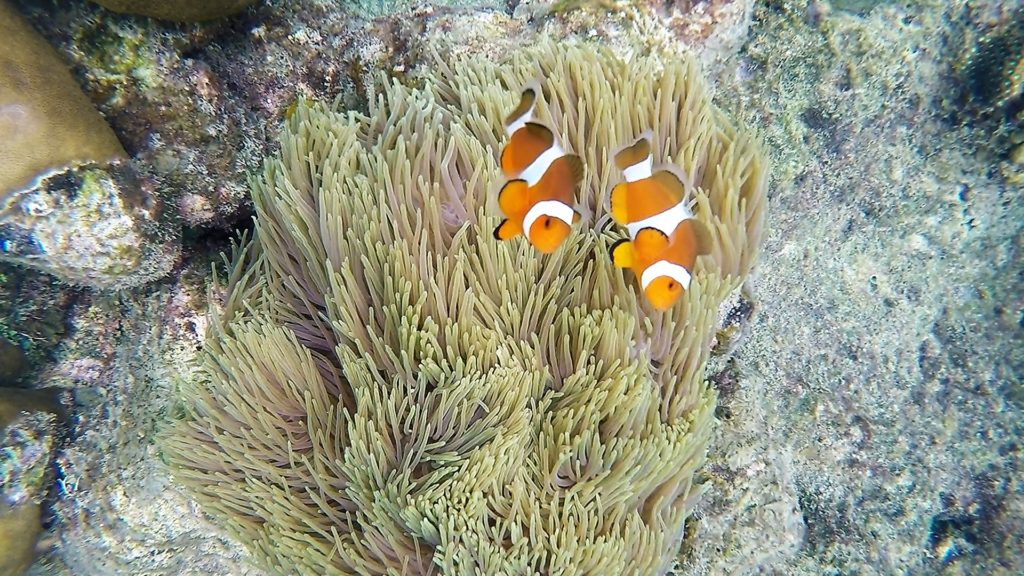 By the time we were done with the Nemo Area, we were already exhausted and decided to call it a day. As our snorkeling spots were scattered and quite far apart, we actually rounded the entire island and the views of different facades of Pulau Pemanggil were just beautiful. Some were rocky, some were covered with green coconut trees and some were small secluded beach.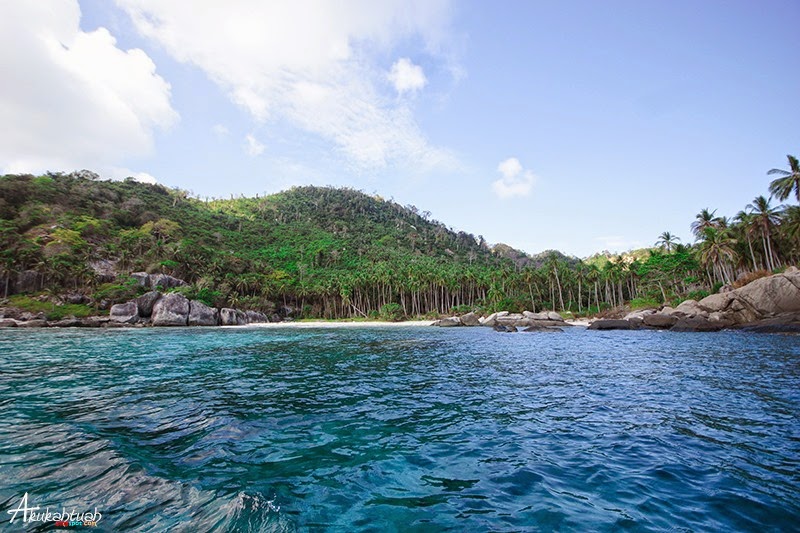 DAY 3
Remember the sunrise I talked about earlier? I got up early on Day 3 to check that out. The best spot to catch the sunrise is the rocky plateau as you head towards the beach.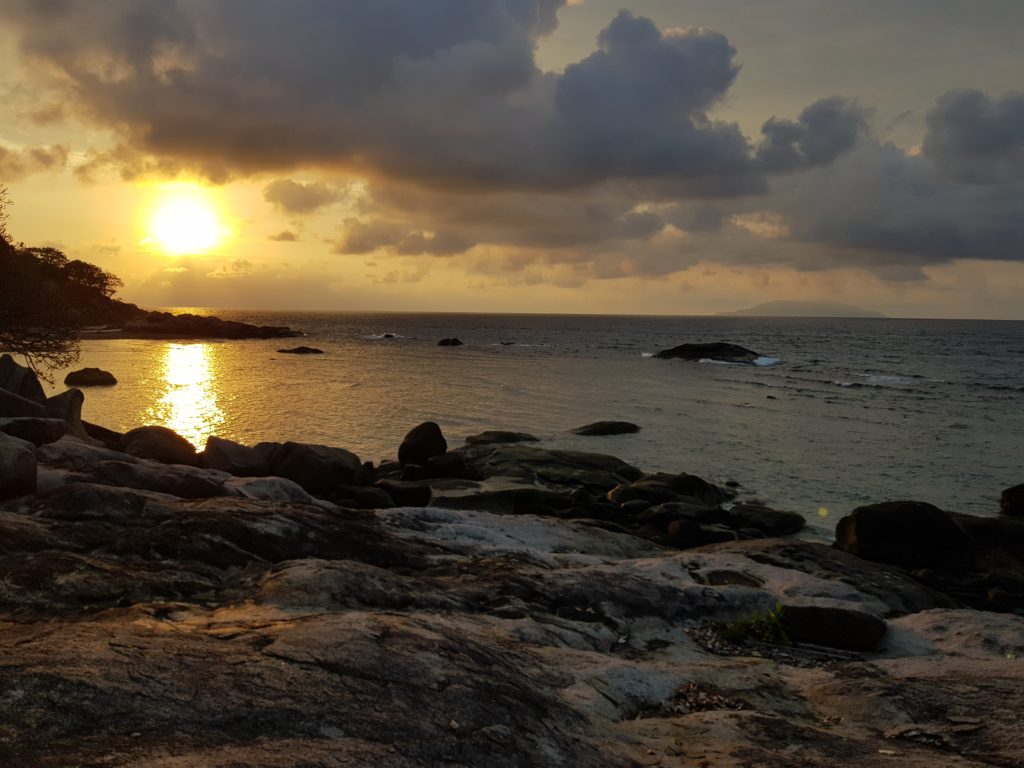 We had our breakfast, packed our stuffs and off we go. We had to take a short boat ride to the main jetty at Kampung Buau as the larger speed ferry back to Mersing can only stop at the jetty. However, we encountered a heavy storm as we left and we were all drenched until we reached Mersing. Fortunately I was able to find a laundry outlet at Mersing before I head to Tioman the next day!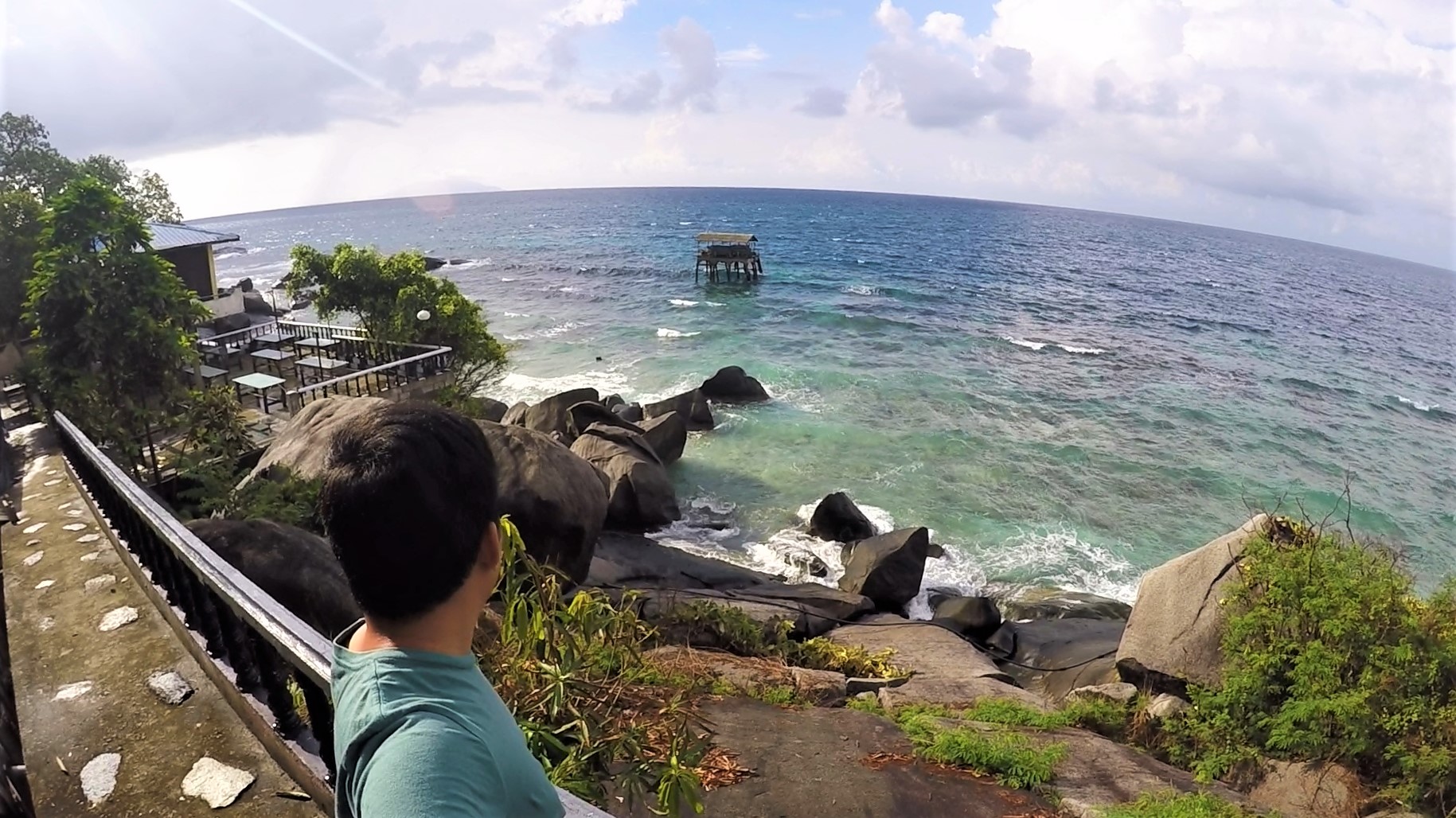 One last glance at Pulau Pemanggil before we go!
---
Getting there:
Location: Pulau Pemanggil Mersing, Johor
From Singapore:  The One Travel bus to Mersing Jetty (Please note that the jetty for Pulau Pemanggil could be "Jetty 2" not far away from the main Mersing Jetty. Please confirm with the resort operator on the exact location)
From Mersing Jetty: 2-way boat transfer to Pulau Pemanggil provided by Lanting Beach Resort 3D2N Package
Accommodation: Lanting Beach Resort