Penang, the one and only island state of Malaysia is definitely a food haven for local Malaysians. If you are visiting Penang for the first time, I have compiled the top 8 food that you must not miss in your Penang adventure. Some of these food are so famous that they have been featured in other blogs whereas some of them were recommended by my local Airbnb hosts Peter & Mei. So in short, 
QUALITY GUARANTEED!
---
1. Air Itam Laksa @ Pasar Air Itam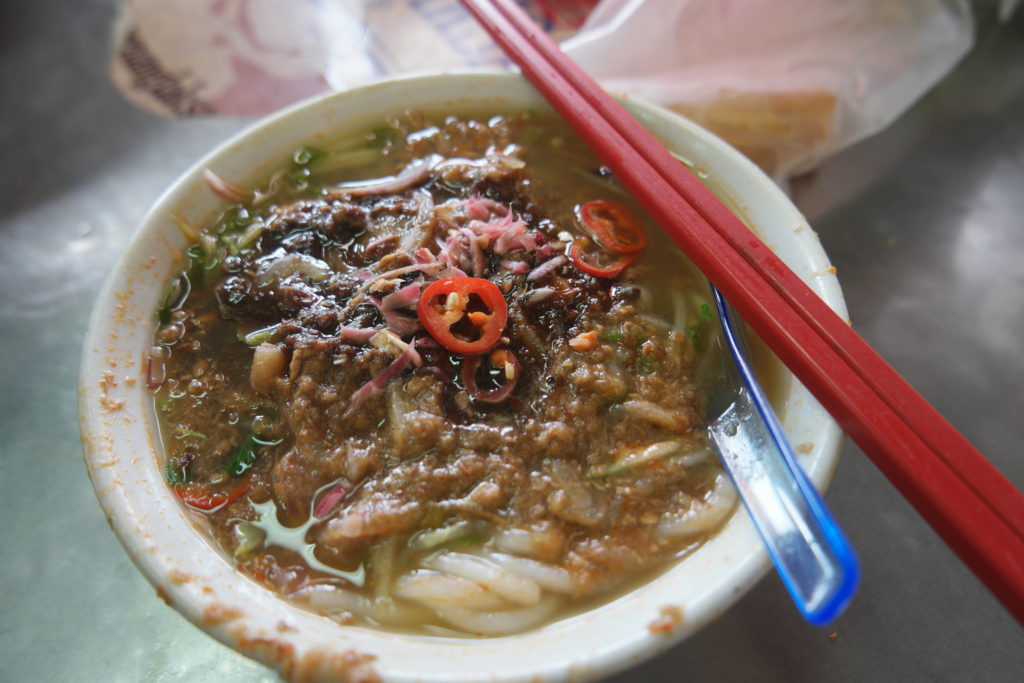 The Laksa (or Asam Laksa) is arguably THE signature food of Penang and the most famous Laksa in Penang itself is non other than the Air Itam Laksa. The broth is rich with all kinds of ingredients like shrimp paste, onions, cucumber, boiled fish, chilli and so on, thus giving you a mouthful of sweet and sour heavenly taste.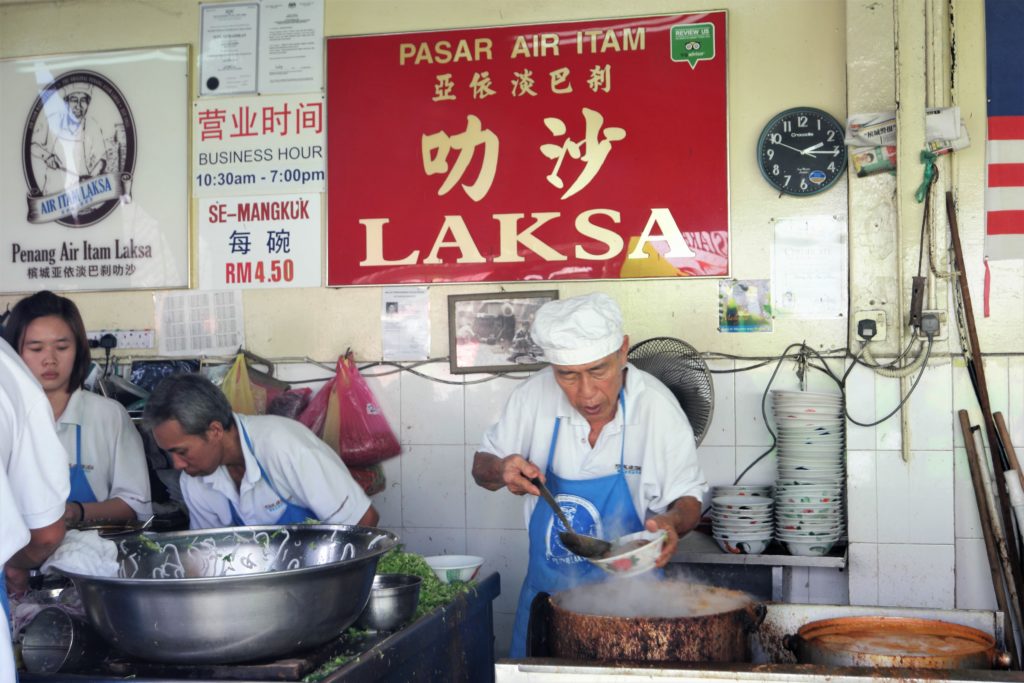 To level up and eat like a local Penangite, you should buy the Popiah from next stall and dip it into the Laksa broth to savour it! This Laksa stall is also located within 10 minutes walking distance from Kek Lok Si Temple! 
2. Charcoal Char Kuey Teow @ Siam Road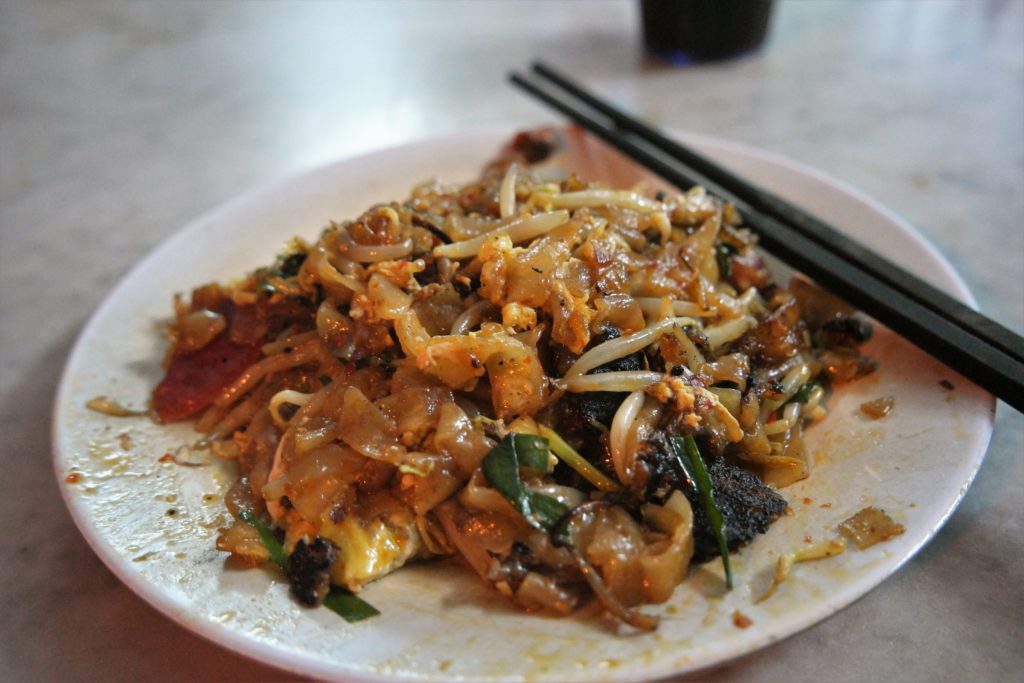 The Charcoal Char Kuey Teow at the end of Siam Road (intersecting with Anson Road) is operated on a cart by an elderly uncle and a younger man (maybe is his son). The Char Kuey Teow, fried with lard, has all the traditional ingredients such as prawns, chinese sausages (lup cheong), and bean sprouts. Some might think it is a bit greasy but I like it.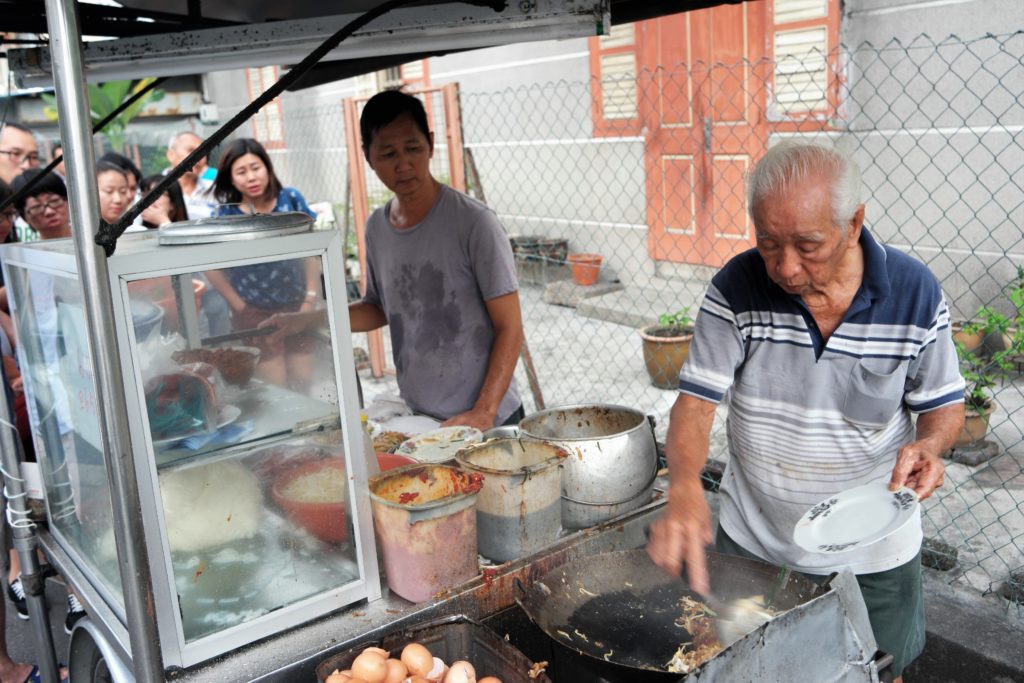 There is a coffee shop across the road where you can sit down and order drinks while waiting for your Char Kuey Teow to be served. The young man will bring your order to the coffee shop. Be prepared to queue for at least an hour due to high demand especially during meal hours. One thing to note, they only open business after 3pm.  
3. Hong Kee Wan Thun Mee @ Lebuh Campbell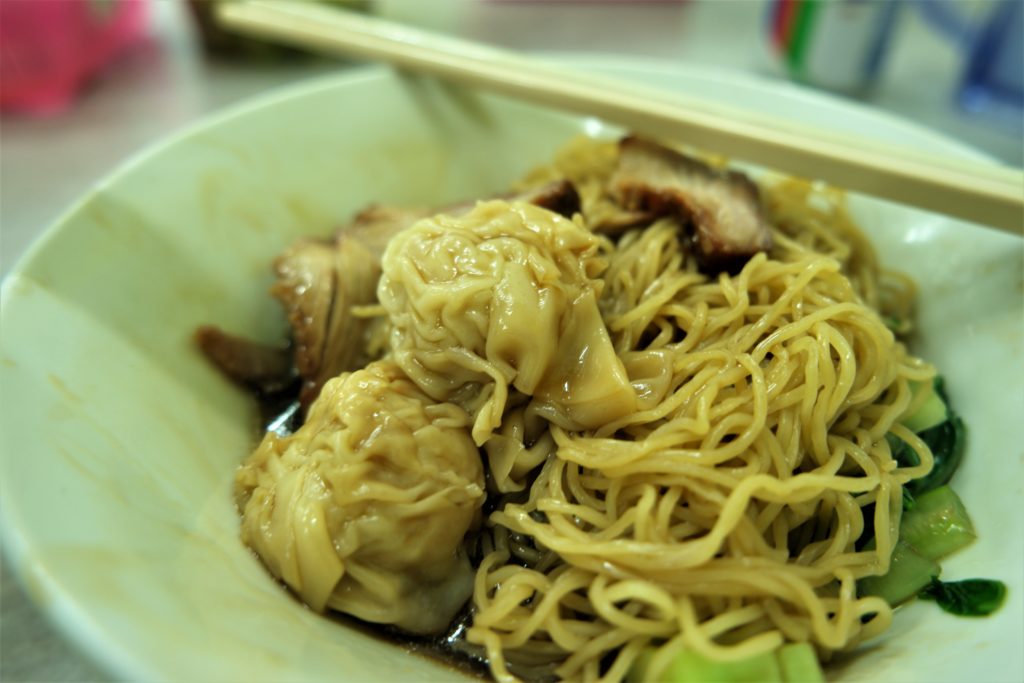 Hong Kee Wan Thun Mee at Lebuh Campbell has the most "Q" (or chewy) noodle that I've ever tried. And its prawn Wan Thun is super juicy!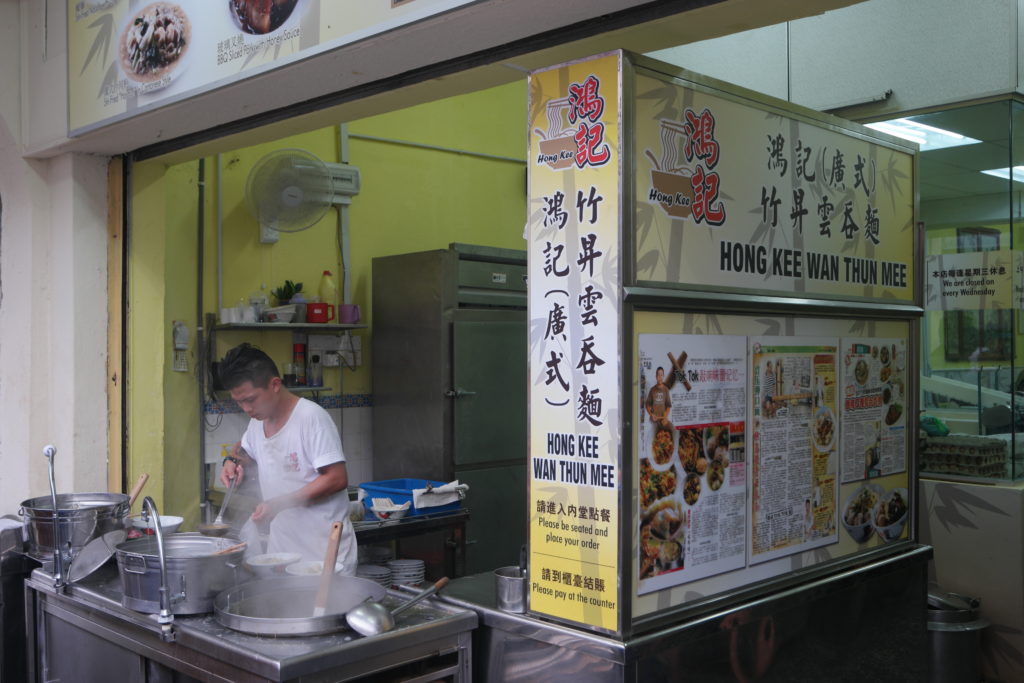 The secret to their chewy noodles is because they used this traditional bamboo method known as "Jook Sing" (竹升) which uses a bamboo to press the flour and eggs to make the noodles. As the Wan Thun Mee kitchen is at the front of the shop, there is a chance that you can see this process in action.
4. Eng Kee Fried Oyster Omelette @ New Lane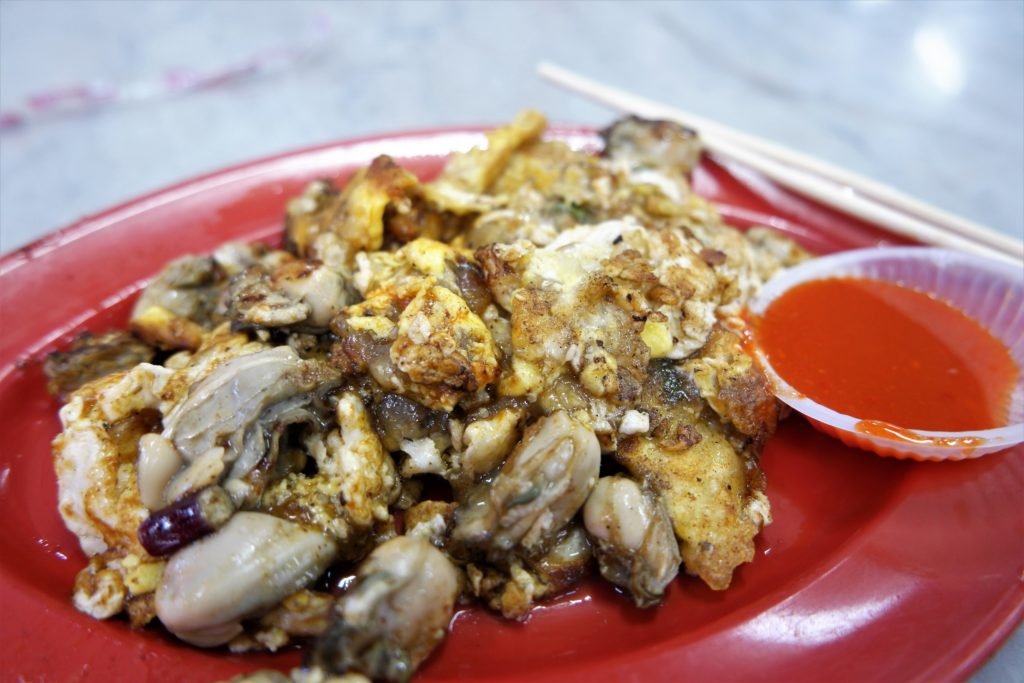 New Lane (or Lorong Baru), a side lane along Jalan Dato Keramat is famous for its night hawker food. I really love the Fried Oyster Omelette from Eng Kee. It is so juicy with big yummy oysters very well fried with the eggs.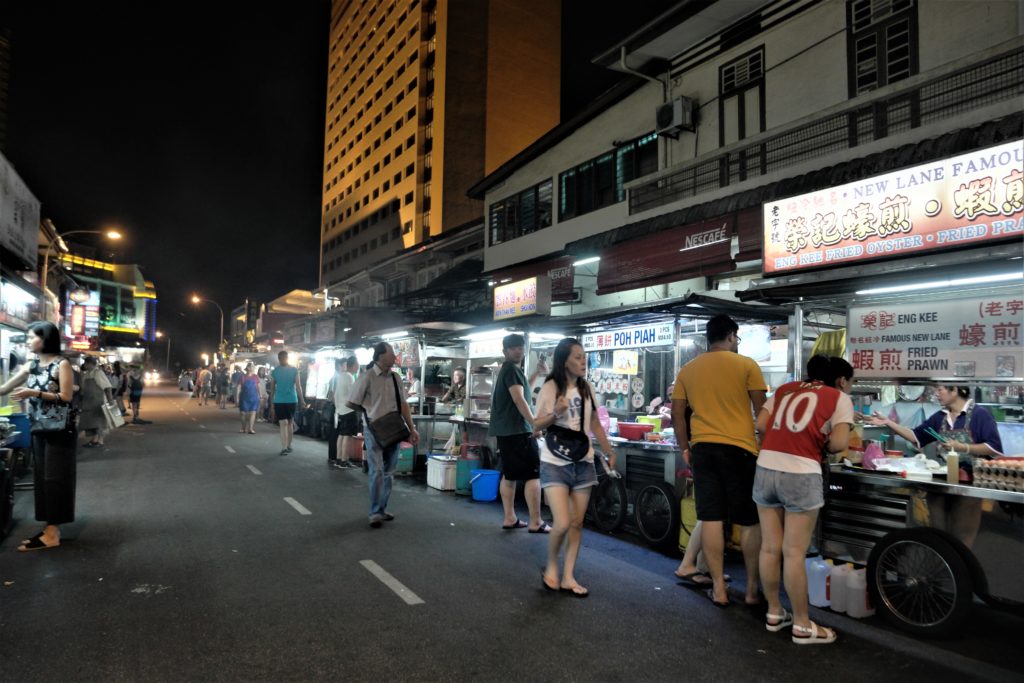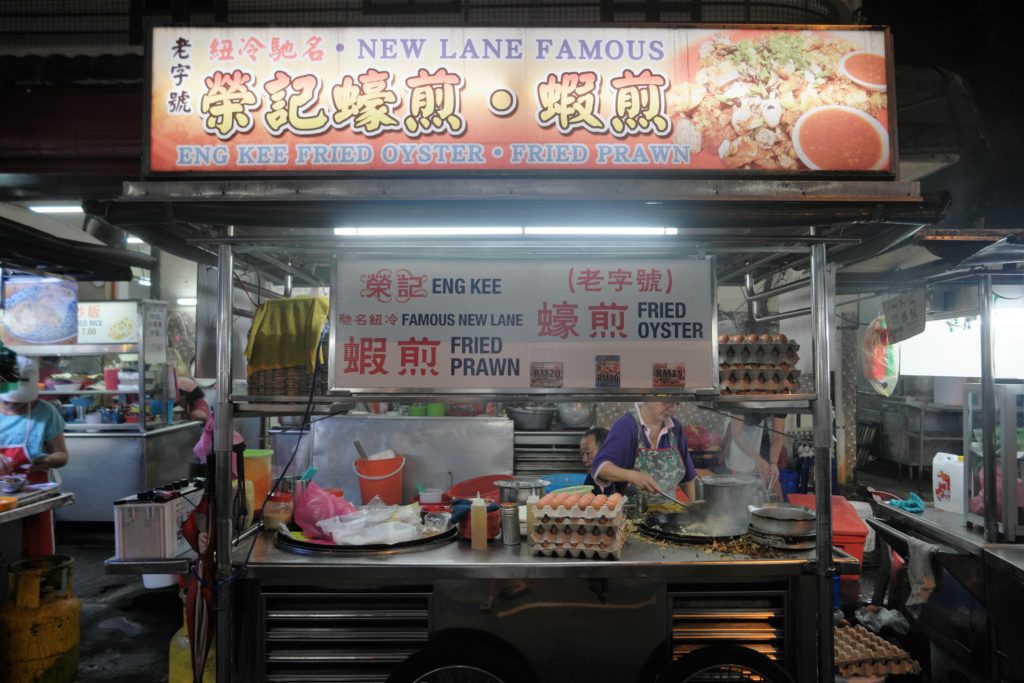 There is a coffee shop behind the stalls and you can enjoy your fried oyster there. Just order some drinks out of courtesy to the coffee shop owner. 
5. Famous Teo Chew Chendol @ Penang Road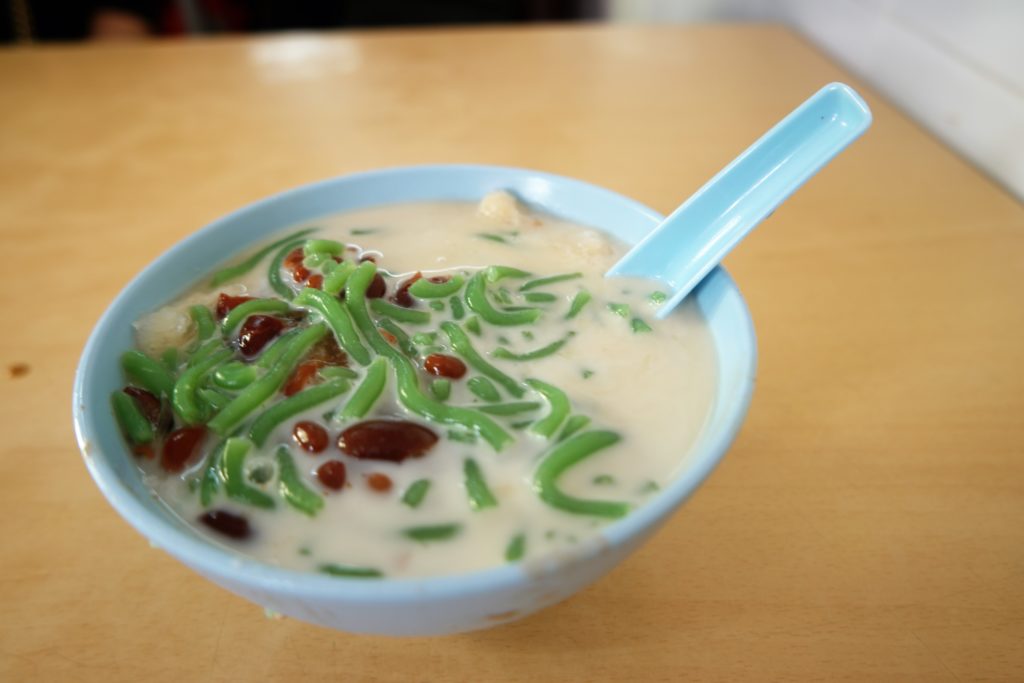 Craving for some dessert? Look no further than Georgetown's Penang Road where the famous Teo Chew Chendol stall operates. There are two chendol stalls along Penang Road. I tried the one with the light blue bowl. Very thirst quenching indeed!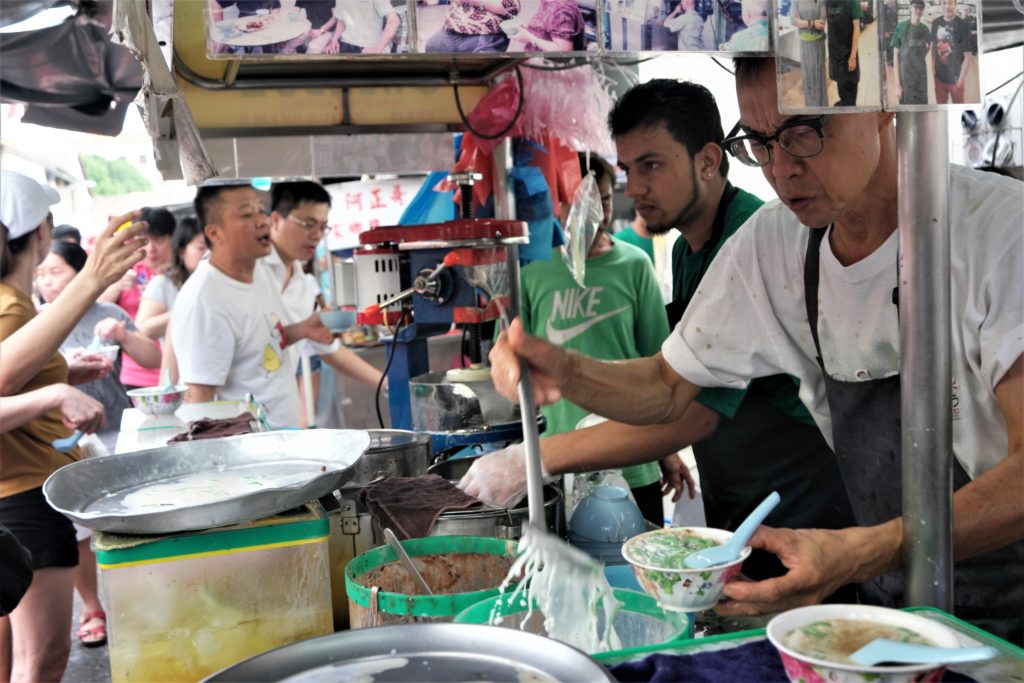 There is a coffee shop beside the stall where you can have your chendol. It is a common thing to buy these Penang food from a road side stall and savour them at a coffee shop nearby. The queue is long but waiting time is not too bad. I'd say around 15-20 minutes.
6. Ah Leng Char Kuey Teow @ Jalan Dato Keramat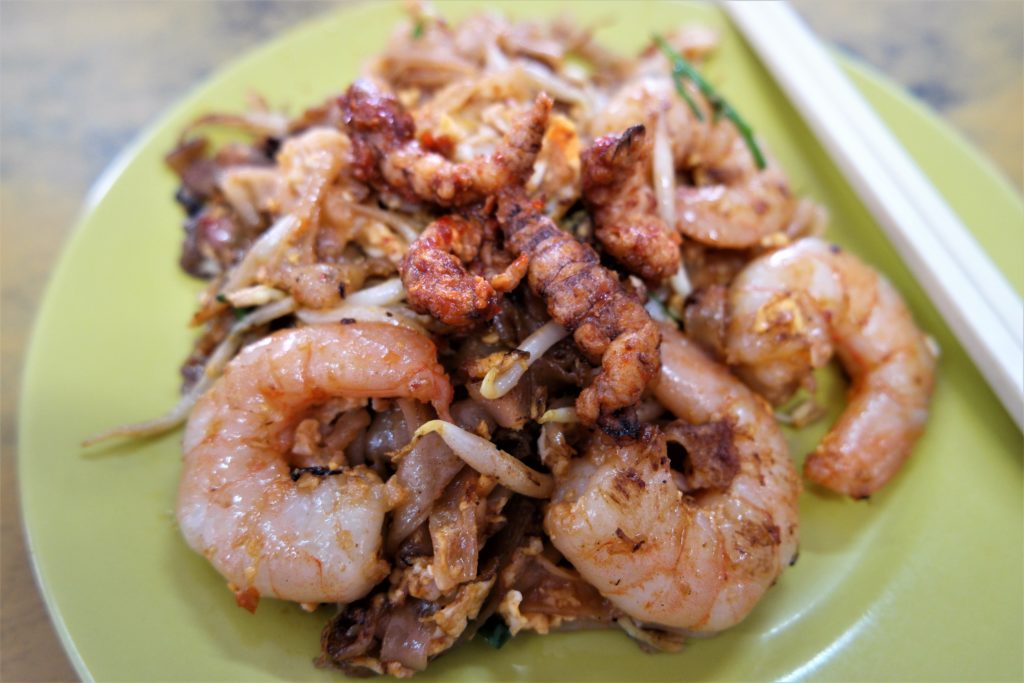 As Penang is a hunting ground for Char Kuey Teow, I will recommend another branch as I thought Ah Leng Char Kuey Teow is really worth a mention. We ordered the Special, fried with duck eggs and huge prawns! You can see for yourself from the photo above. Seems like it has more ingredients than the Kuey Teow itself!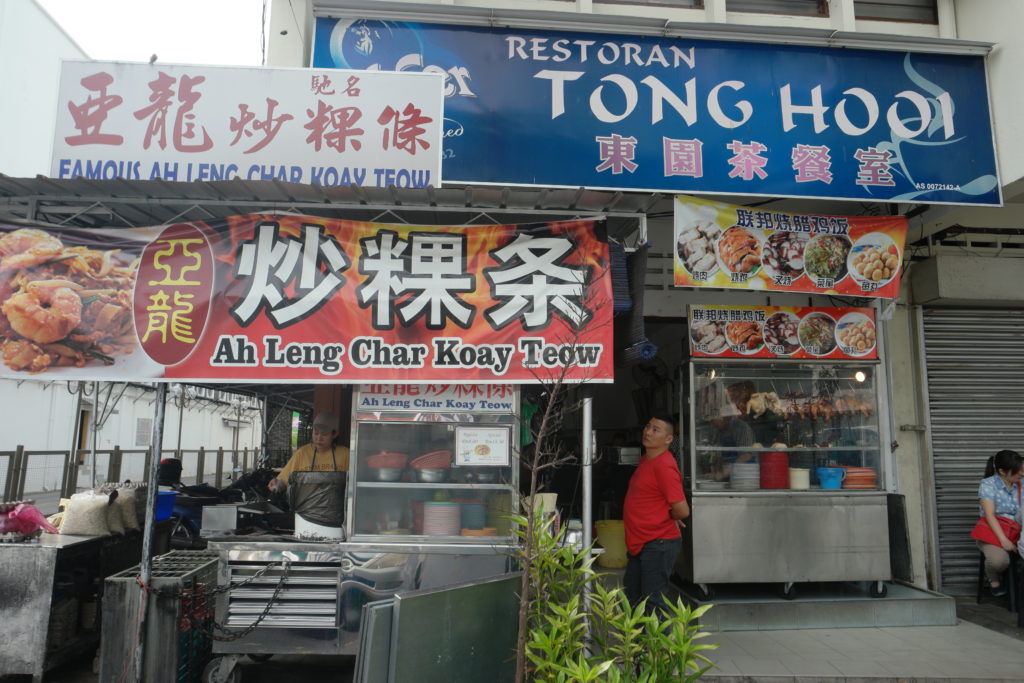 As waiting time can go up to one hour during meal time, I'd recommend that you go there at 9:30am in the morning when they open their business to avoid the long queue. However, this Char Kuey Teow (Special) is pretty pricey at RM14.00.
7. Penang Fried Laksa @ Siam Road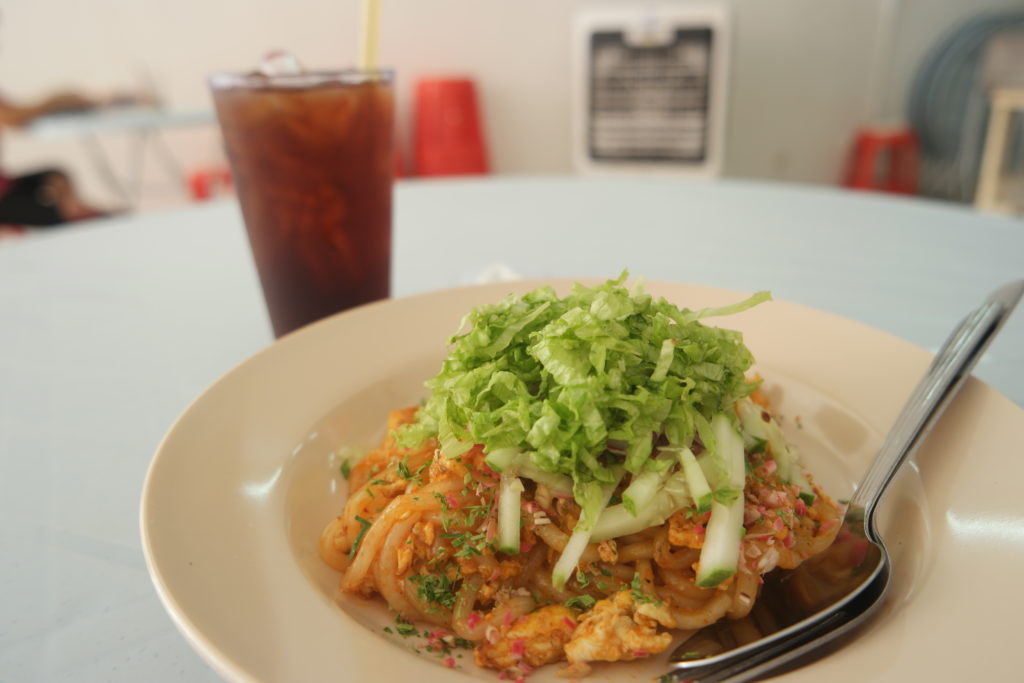 This dry version of the Penang Laksa is quite underrated at the moment as they've just opened their stall at Siam Road's Yan Yam Cafe less than a year ago. It is very delicious with all the rich Laksa flavour that you'd expect. There is also option to add more ingredient for a customized dish such as meat slices, fish balls, mushrooms etc.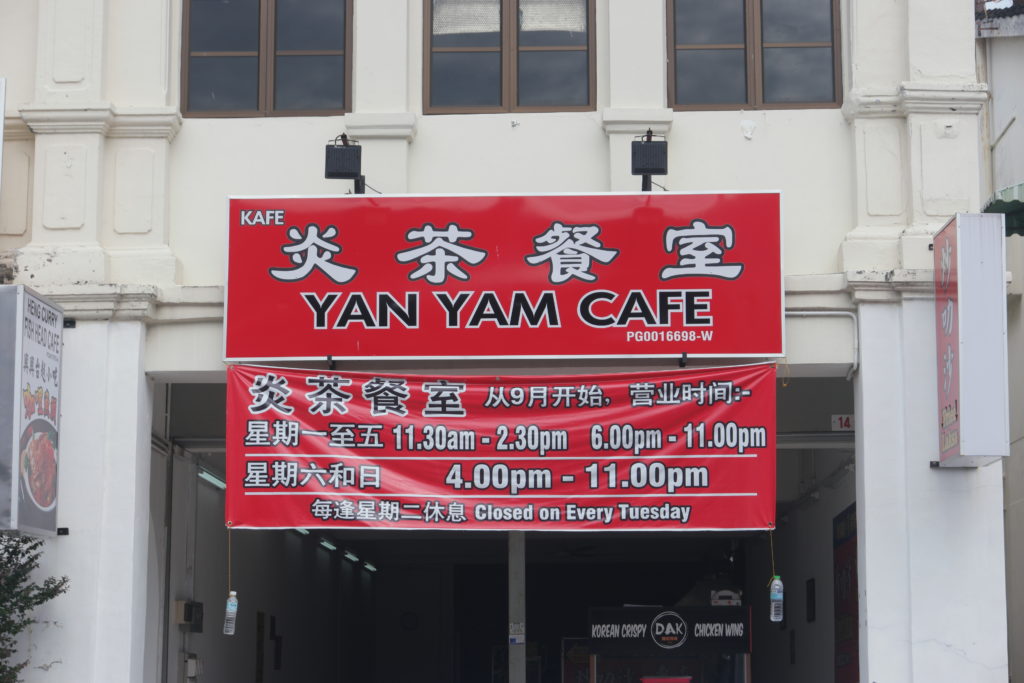 8. Duck Kuey Chap @ Kimberley Street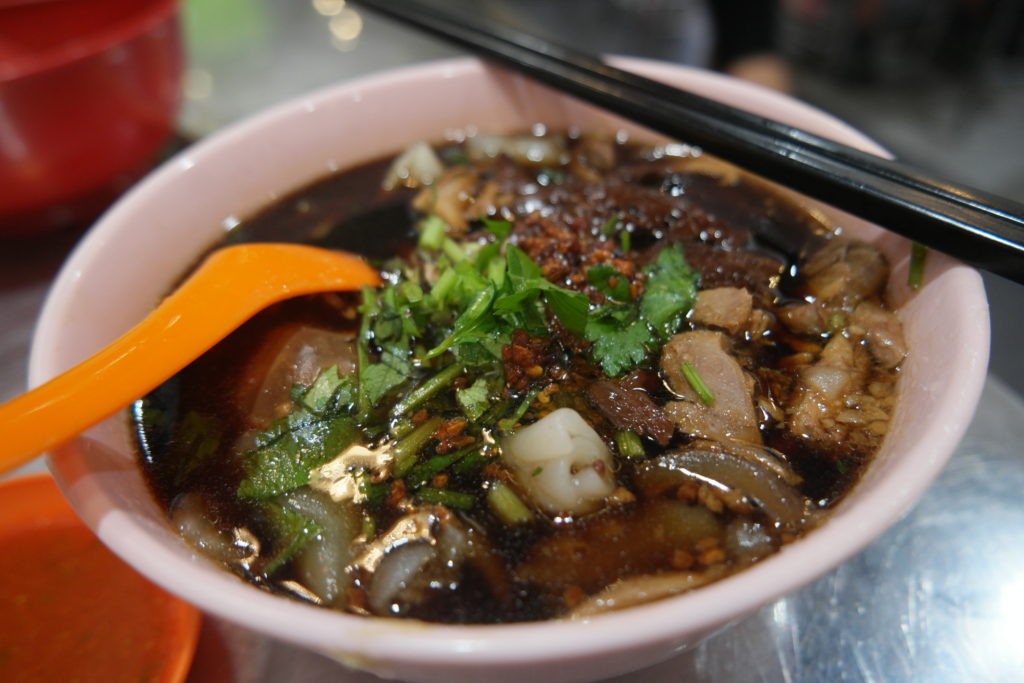 If you are having late dinner, you might want to head to Kimberley Street's Duck Kuey Chap shop to ease your tummy. They serve quite a big portion and I like to mix the chilli with the Kuey Chap to add more flavour. Kuey Chap in Penang is curled up and more chewy compared to those in Singapore. 

BONUS: Balik Pulau Laksa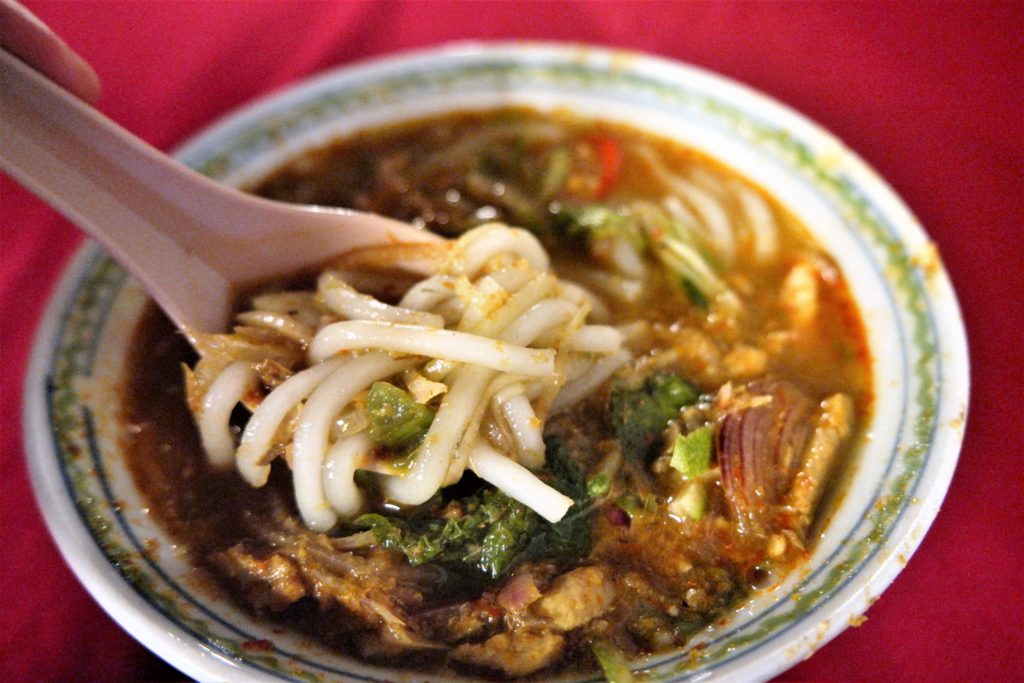 This Laksa that I tried at Balik Pulau is MY PERSONAL FAVOURITE of all. The reason it is not featured in the top 8 is because Balik Pulau might not be in most people's itinerary as it is located far away from Georgetown at the back of Penang island. The Laksa here has a richer flavour and slightly more spicy than the one I had in Air Itam. It also has more ingredient in the broth and really left me craving for more. I will definitely go back and look for this Laksa again!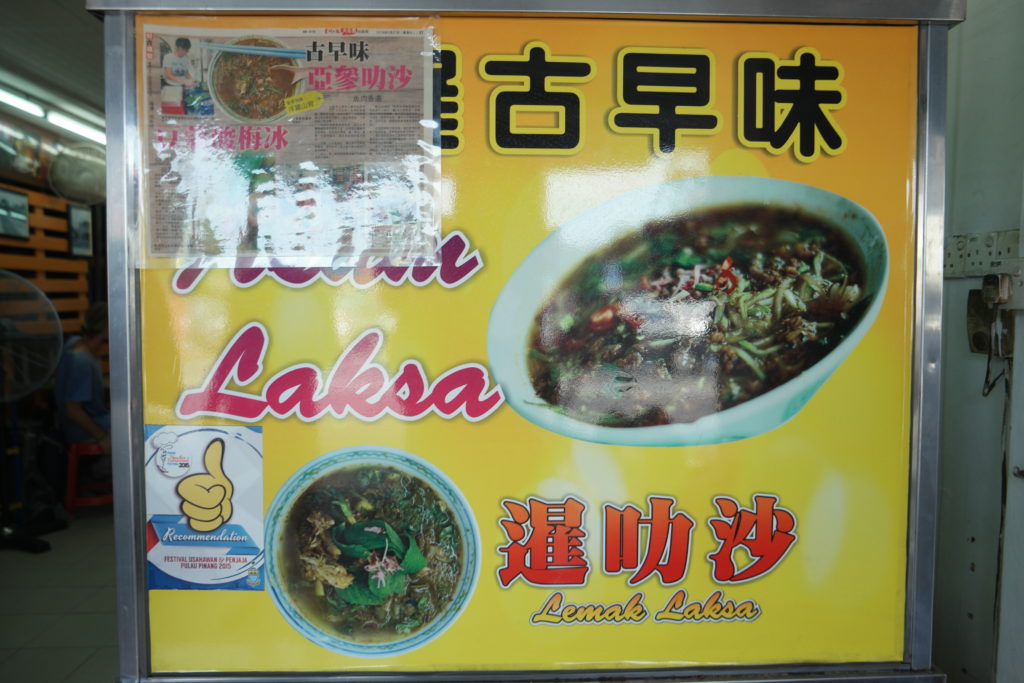 They also sell Siam Laksa which has coconut milk (lemak) in the broth. Will give it a try in my next visit for sure.
---
There you have it. My 8 Penang food recommendations especially for first time visitors to Penang. Please let me know your thoughts, or your personal favourite Penang food in the comment section below =) Do check out the full blog post of my 4D3N Penang Trip for a more in-depth sharing of my fun-filled adventure around this amazing island state of Malaysia!